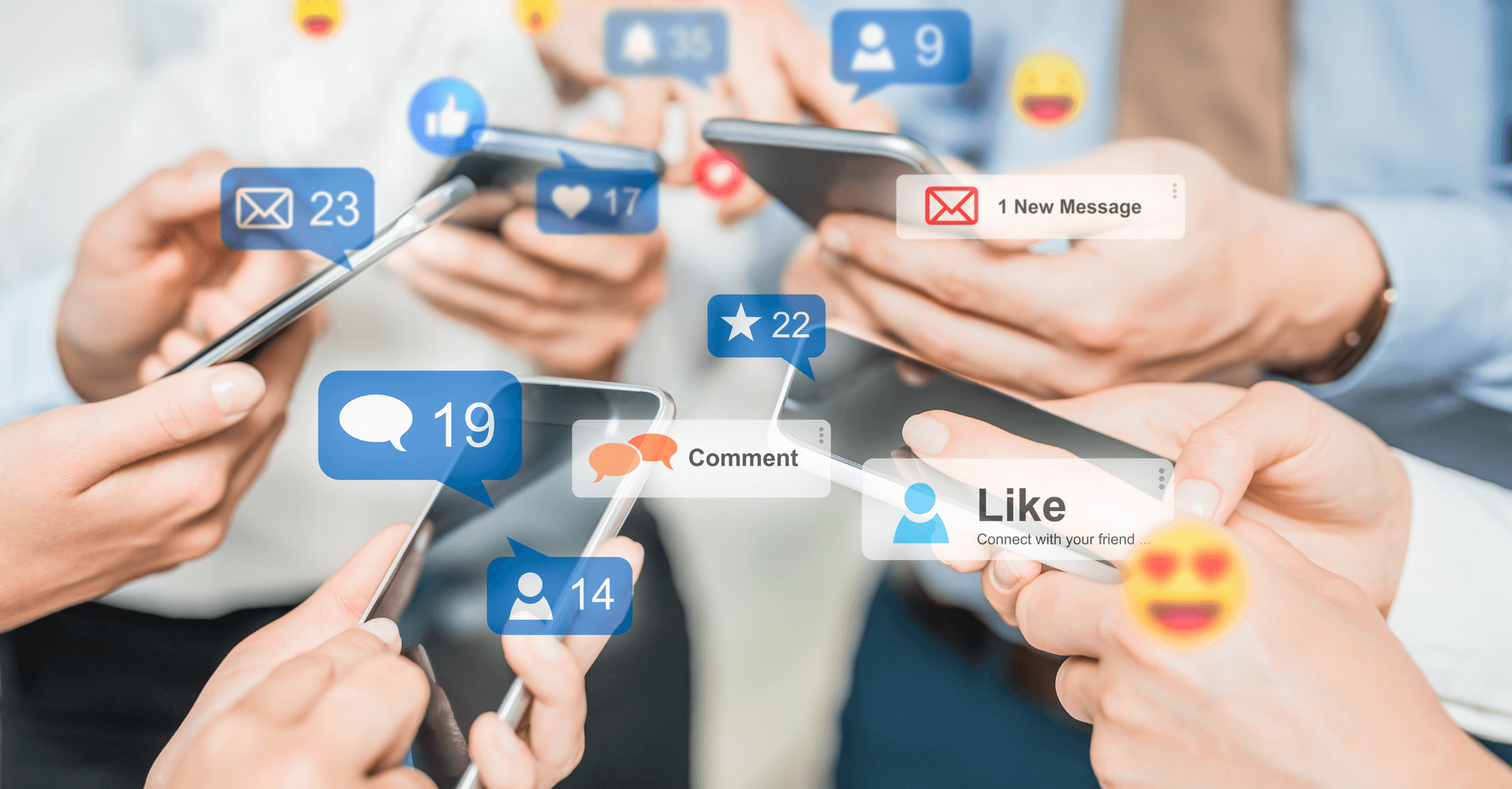 Our guest blog comes from Samantha Russell, Chief Marketing & Business Development Officer at Twenty Over Ten (a digital marketing and website development company for financial advisors). Samantha helps financial advisors create digital marketing strategies that produce explosive growth through website development, content marketing, SEO, social media and video.
Social media marketing is a huge part of almost every financial advisor's digital marketing strategy. Because of that, there are many things that you need to keep in mind when it comes to creating awesome content, and also remaining compliant.
Most advisors worry about compliance on social media, and some may even give up on their social media marketing efforts entirely for fear of compliance mishaps. If you do that, then you are missing out on a HUGE chance to drive traffic and improve your SEO.
FINRA (Financial Industry Regulatory Authority) and the SEC (U.S. Securities and Exchange Commission) have published many regulatory notices and compliance guidelines that make the use of social media for advisors more difficult. FINRA's main goal is to supervise and control social media practices to make sure that investors are protected and market integrity remains intact. However, if you follow their guidelines, then remaining compliant on social media should be easy, as long as you follow the below tips.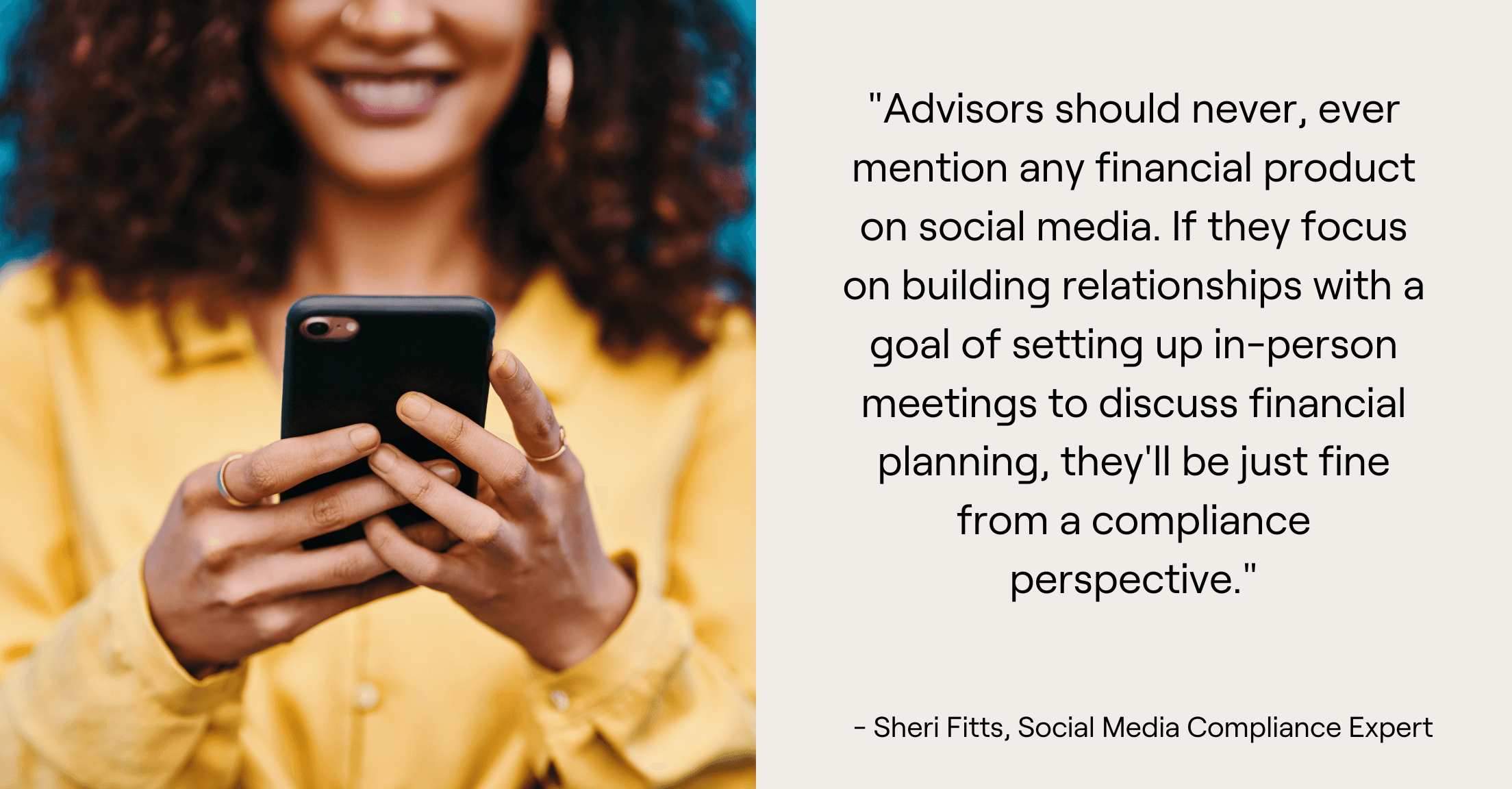 Tips for remaining compliant on social media
It's something that is very important, and the below tips can keep you out of trouble and ensure that your firm is remaining compliant on its social media platforms.
1. Have a policy in place and train all of your employees
It's pertinent that you have a policy, and that everyone at your firm knows exactly what that is! It should outline how you will be interacting with others on social media, and this includes training and monitoring your employees that will be engaging with clients, prospective clients or really anyone that you interact with on social!
Your policy should determine what you should put out there, when to post, and who will oversee the firm's social media activity. This shouldn't be static though, as policies are always changing, so keep an ear out for any new updates to compliance so that your company can steer clear of any problems.
So, what are some of the ways that you should train your employees?
Distinguish between their personal versus business communication

What happens if you violate written rules?

Which social media posts need to be approved prior to posting?

Do any of the posts need reviews after you post them?

What is the best way to manage third-party social accounts?
These are just some simple tips, and if your employees follow these tips, then they should be safe on their social accounts!
2. Be sure that you are supervising and archiving
You need to retain and keep track of all of your social media activity. Once something is put out there into the cyber world, remember that it doesn't just disappear!
Regulations
Regulations require that you archive all of your work and activity for 3 years. This is so important because if someone had a dispute or a problem with anything that you may have shared, you need to be able to back up your work and show what you said or didn't say.
Archiving tools
It would be impossible to keep track of everything without proper technology though, so be sure that your firm has the correct tools to do this. What are some things to keep in mind for this?
Each type of communication needs to be archived. It doesn't matter if it was sent from your personal or your work account.

This includes sent and received messages, and those messages should be reviewed and monitored as they take place.

The monitoring of these messages ensure social media compliance for financial advisors is followed so that action can be taken if it is necessary.
Lead Pilot archives all social posts scheduled through the platform, and everything deployed from Lead Pilot is automatically archived to satisfy all regulatory requirements. Everything from emails to landing pages and social media posts everyone can breathe a collective sigh of relief knowing it's all archived.
Visit "Archives" or hover over your user icon and select "Archives" from the drop-down menu: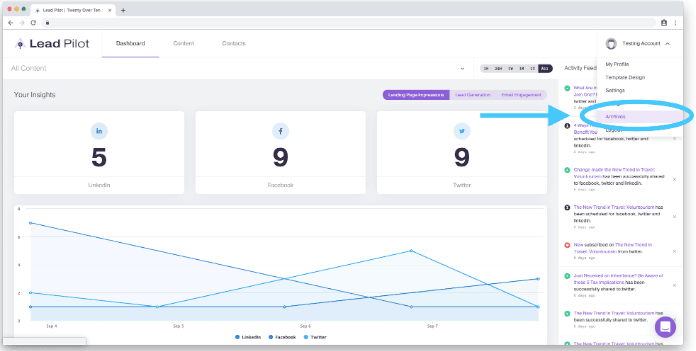 This opens your Archives page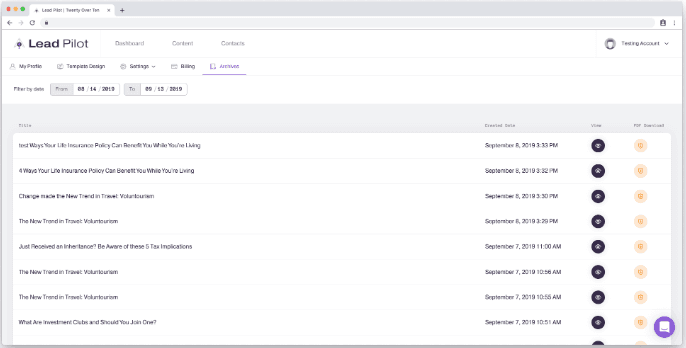 2. Click "Filter by date" to open the calendar menu and hone your results: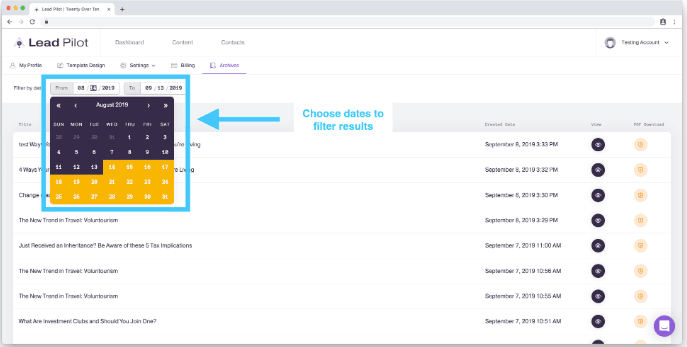 3. Click the "View" icon to the right of a post to see details including share time, global landing page settings, and social media messaging: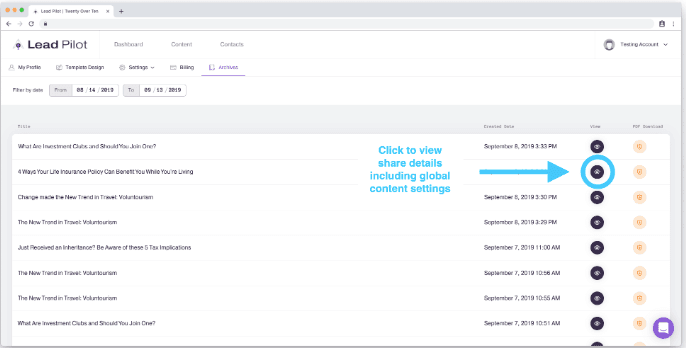 4. Click the "Download" icon to the right of a post to download a PDF of your landing page content: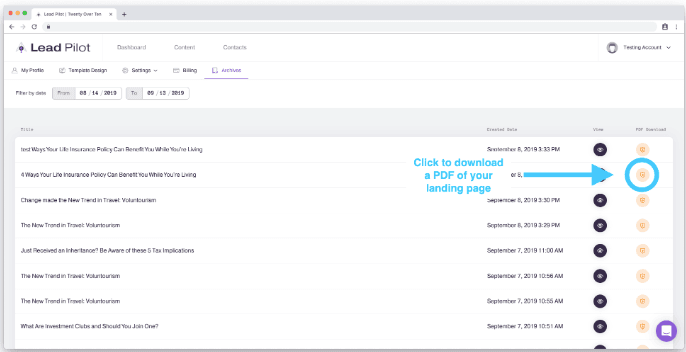 3. Don't make recommendations
You should not mention any financial product or make investment recommendations. Keep in mind that anyone can read what you put out on social, so you don't want to accidentally offend someone or offer up information that may be incorrect. It's best to remain more neutral when you are putting information onto your social platforms.
4. Keep track of the types of communications
What are some of the things that you need to watch for?
Personal communication:
Personal information or posts about business activities outside the business do not need to be archived. This includes something like vacation photos or a notification about a company's upcoming charity outing.
Third-party content:
Unsolicited comments made by any third party outside the company are usually not considered business communication, and so they are not controlled by the regulations, however, if the firm pays for them, then they are.
Hyperlinks:
Be sure that what you are linking is something that your firm approves and believes in. The content that you link needs to be correct and not contain false information. You also want to link to reputable sources so that you are seen as a respected firm that shares relevant content.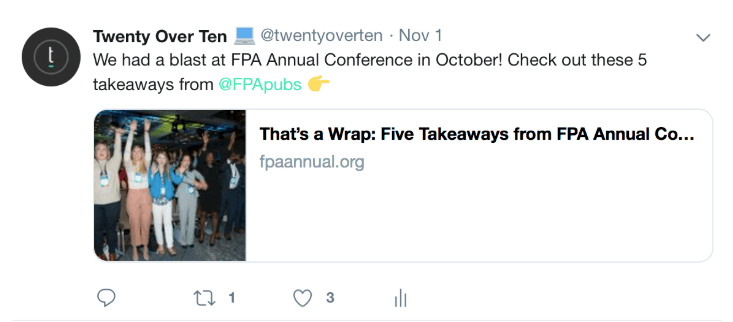 In the above tweet, Twenty Over Ten is sharing a link on their Twitter account from a third-party source. It's a reputable source that offers pertinent information from a past conference.
Endorsements and testimonials:
It doesn't take much, but simply liking or sharing a comment is equivalent to an endorsement, and is subject to regulatory compliance. Because of this, even liking something needs to be archived.
Static content versus interactive content:
What is static content? This includes videos, advertising and social media profiles, and this requires pre-approval. What is interactive content? This type of content includes updates and tweets, so they must be monitored and archived by your firm or a third party. Blogs are sometimes considered interactive content and can be either pre-approved or supervised, so those need to be checked on a certain basis.
5. Electronics are the same as signing something
Keep in mind that from a compliance perspective, all communication that happens on the Internet, which includes communications on social media sites, is the same as an in-person agreement or signature. We are living in a digital world, so anything that happens online counts just as much as the "real-world."
Takeaways
If may seem like a lot, but in reality, if these simple tips are followed, then your firm will be able to follow a strong social media strategy. Keeping in compliance is so important, but without having these rules in place, then it can really disrupt your social media plan. However, if your firm pays attention to details and you ensure that your entire team is on board, then this will be just another part that makes your business strategy strong.