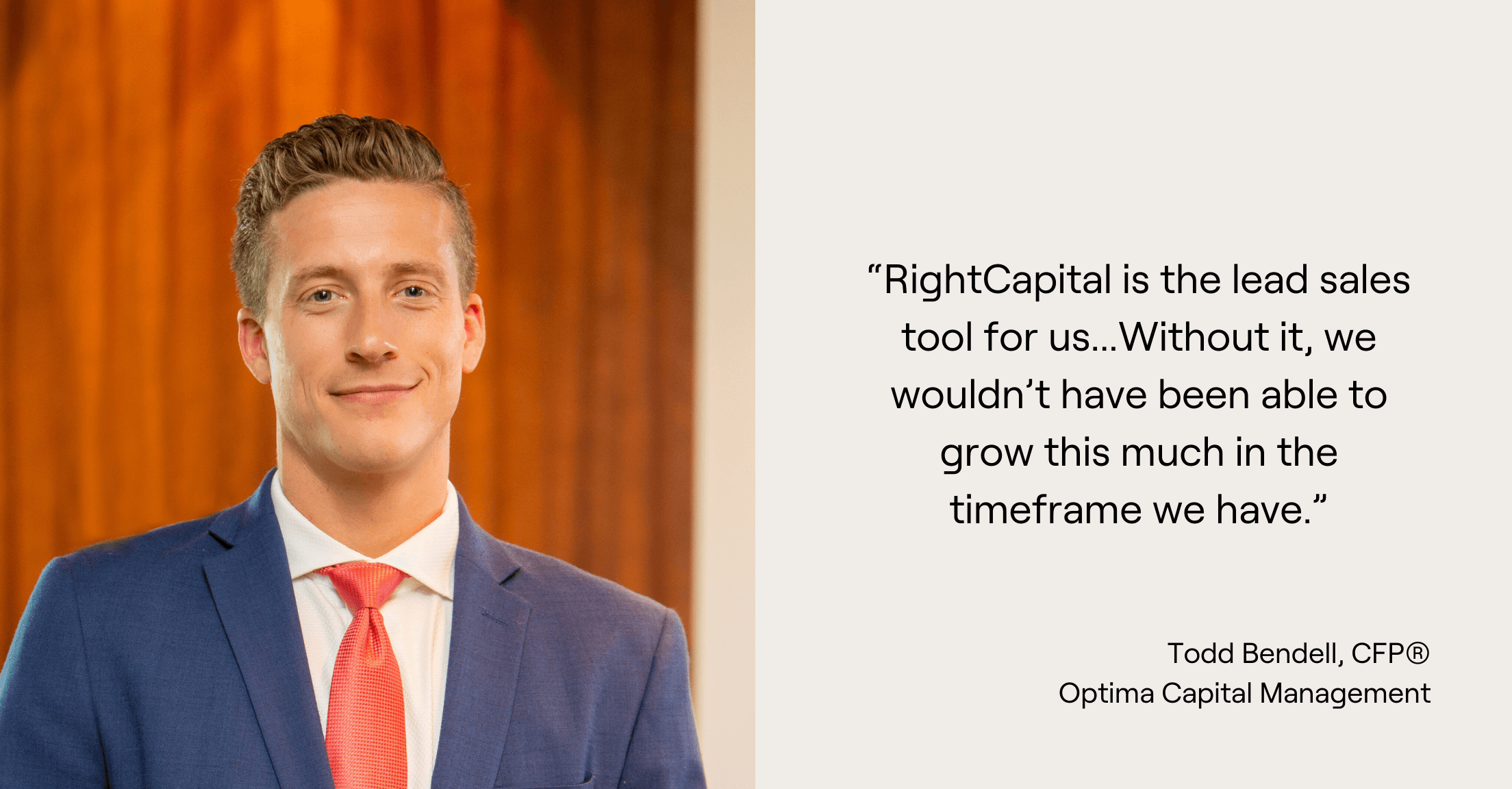 Optima Capital Management out of Tempe, Arizona is the brainchild of Todd Bendell, CFP® and Jonathan Elliott, CPWA®, CRPC®, RMA®. Todd and Jonathan had worked together at a wirehouse firm and launched their own RIA in 2020 with the objective of offering clients a more personalized and bespoke service. Operating as a fiduciary, Optima prides itself on a planning-first approach centered around clients' goal realization. Leveraging RightCapital, the team has crafted hundreds of financial plans for clients and prospects, and impressively achieved an AUM of $75 million in just a few years.
Challenge
Desire for a dynamic software
At their previous firm, Todd and Jonathan utilized an internal system which became inaccessible once they embarked on their independent journey. They sought a more fluid, interactive planning software, a feature their old platform fell short on. When starting Optima Capital Management, they explored helpful resources and tools on Michael Kitces' "Nerd's Eye View" blog. It was Aaron Hattenbach's article, "The 26 Steps I Took To Set Up And Launch My Own Independent RIA," that led them to RightCapital.
Solution
An intuitive, user-friendly platform
While evaluating tools, RightCapital stood out. "We wanted to be a part of something new and the price was right. Since then we've been loyal because RightCapital is a good software," said Todd. The team found it easy to transition. Within a week it was clear, "RightCapital is so much smoother to work with."
Results
Rocketing AUM
While the team brought over one or two clients from their old firm, they were starting from scratch otherwise. Leading with planning with RightCapital helped them build assets under management to about $75 million in just a few years. Todd emphasized, "RightCapital is the lead sales tool for us—integral to our sales process. Without it, we wouldn't have been able to grow this much in the timeframe we have."
"A front door to clients"
The rapid increase in AUM that Optima Capital Management has seen is possible by offering a financial plan to every prospect and client. Jonathan explained, "RightCapital is a front door to clients. We use it as a way to start the relationship and show our value. We tell prospects, 'If you like working with us and you think it's a good fit, we can manage your investments.' This wouldn't be possible without RightCapital." 
"A-ha moments" that drive client behavior
Jonathan explained how the team looks for "a-ha moments" with clients and how these moments are evident when reviewing a plan within RightCapital. "There's always somewhere we can help." Whether through estate planning, considering multiple scenarios—such as keeping the primary home in retirement vs. down-sizing, or seeing how the plan changes with small adjustments in income or spending, "There's always something the client hasn't yet thought about…A-ha moments come from the planning." 
He continues, "Seeing their plan drives behavior, I know it. We've met with people, and it can be something small, such as a salary increase. You move the slider bars in the retirement section and the client sees that difference. I know that person went back and saved that money instead of spending it, and it makes a difference in their plan. RightCapital did that—because of the ability to model the scenarios. It makes a huge difference and we can truly help people."
Flexibility and client collaboration
Jonathan discussed how with the internal platform at their former firm, "everything was static" and delivered in PDF reports, with no option for clients to log into their plans. "Meetings are now more productive, showing RightCapital in real time and making necessary changes…this wasn't possible with the solution we had at our old firm."
More streamlined onboarding
"It was a big difference to send the client a link to have them enter their data themselves. RightCapital is easy to understand, it's much more user-friendly and efficient than what we were using." Todd shared that he even started to restructure his own line of questioning when meeting with a prospective client based on the RightCapital approach.
A more accurate picture of retirement
The team found that the majority of their prospects either didn't have any sort of plan or had used a simple retirement calculator. "If someone has access to a retirement calculator that's great, but they don't consider a spouse, all the elements of a cash flow, or liquidity. RightCapital gives a much more accurate picture." Jonathan noted, "Clients realize the beauty and the value of RightCapital. Not a lot of people have seen something like it."
---
Whether you're seeking a more versatile platform, aiming to streamline onboarding, or desiring to create meaningful "a-ha moments" for your clients, RightCapital has the potential to enrich your practice. Start your journey by scheduling a demo today! For more advisor success stories, visit this page.