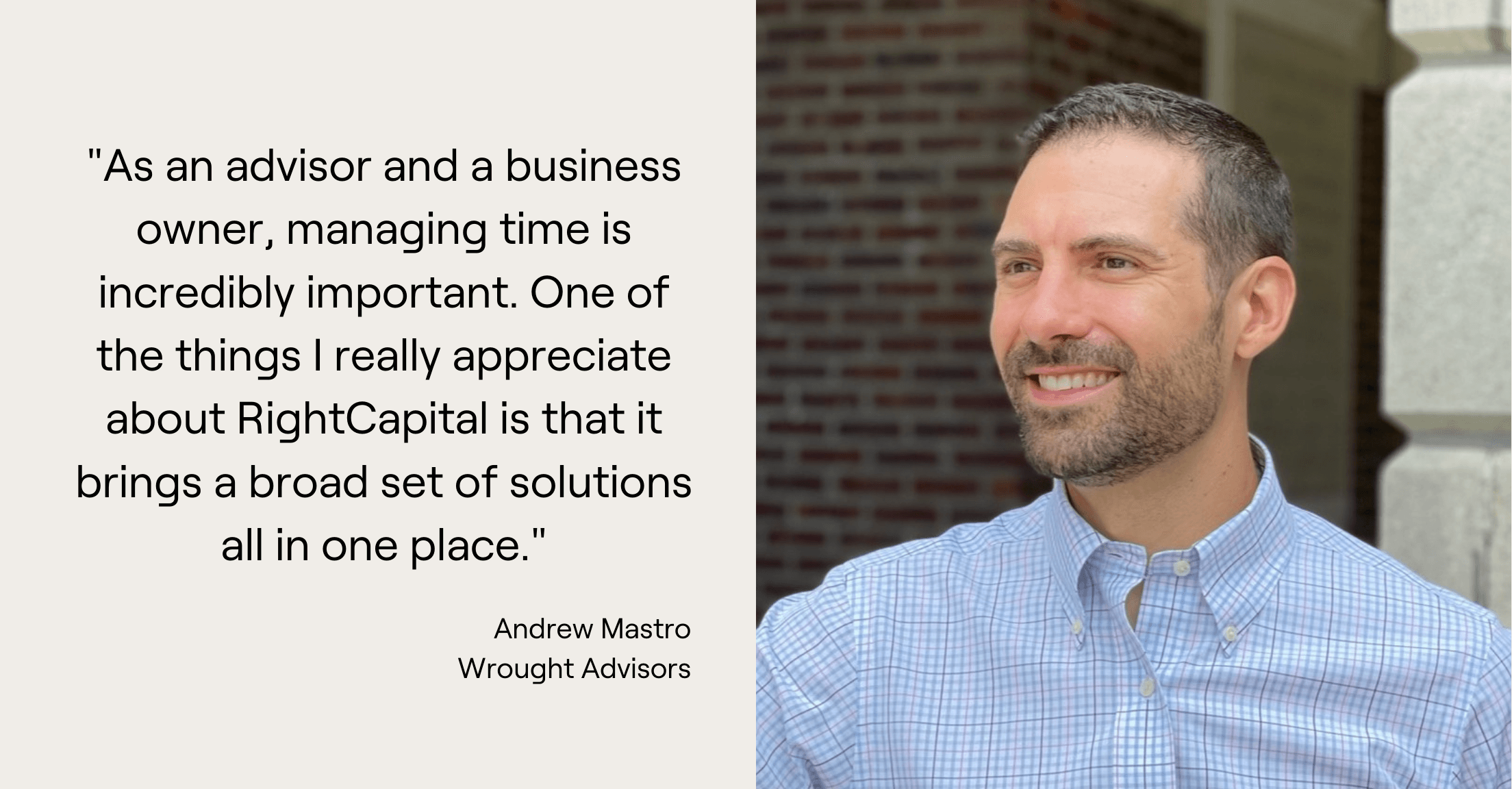 Andrew Mastro, CFA, CFP®, CAIA, broke out on his own from a large firm to found Wrought Advisors in New Jersey in 2021. "I love my job!" Andrew explained. "Being a financial advisor is such a great mix of skills—it's psychology, engineering, problem solving, history—and helping take these topics which I find really interesting that most of my clients don't and making complex ideas simple while having great tools to help us is an important part of the practice."
Challenge/Opportunity
At his former firm, Andrew had been tied to a legacy platform that produced lengthy, static, complicated reports for clients. "It was always a struggle in meetings to go through the right routines and use the right words to make the report something that clients could understand." Andrew mentioned that inevitably in these meetings, clients would have "what-if'' questions that you couldn't demonstrate the answers to clearly because of the report's static nature. "I also think that one of the challenges in our industry is demonstrating our value-add to clients."
Solution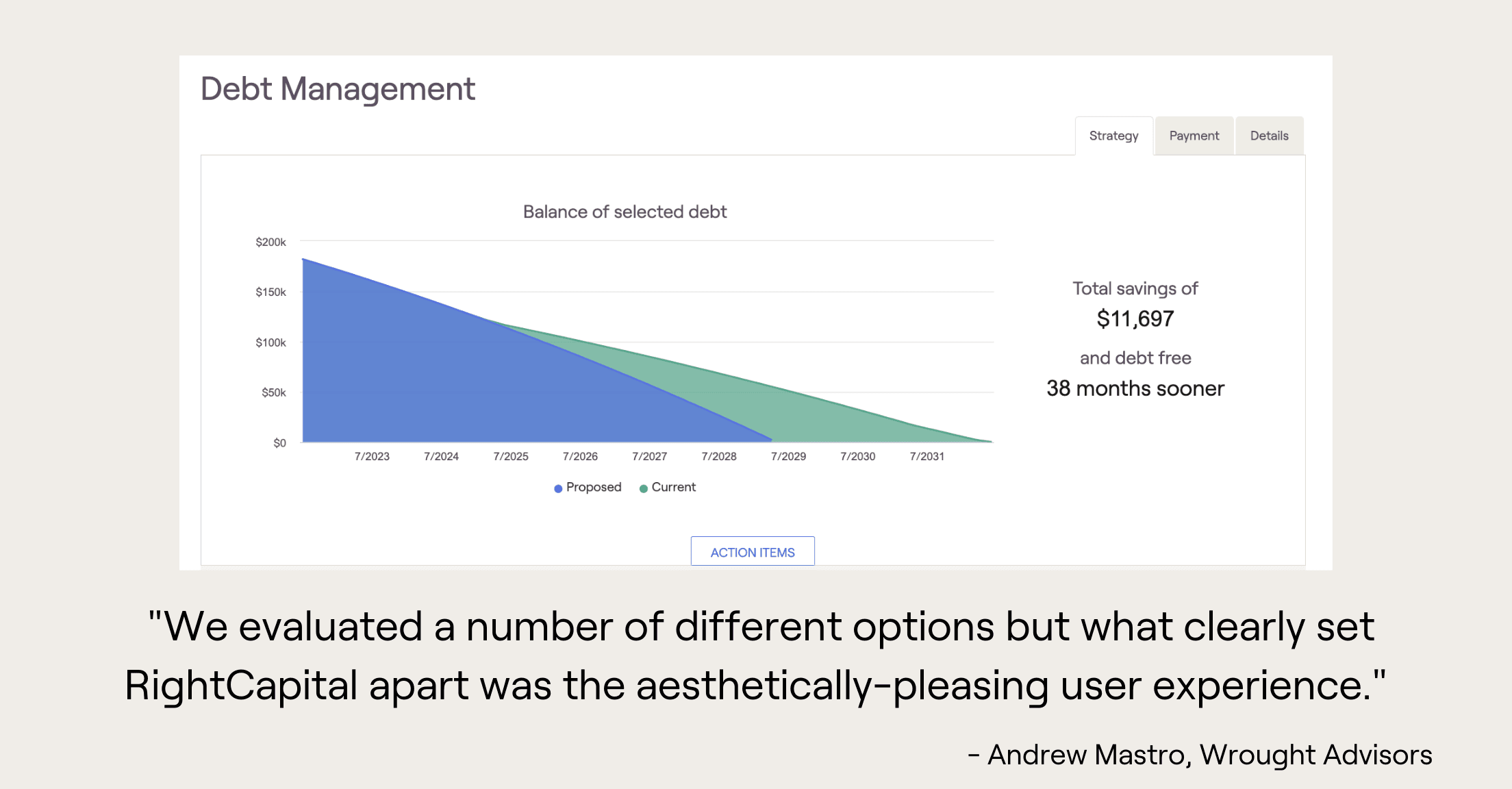 Andrew noted that with the founding of Wrought Advisors, it was their responsibility to find the very best financial planning software that they could on behalf of clients. "We spoke to and evaluated a number of different options but what clearly set RightCapital apart was the aesthetically-pleasing user experience. We loved how simple it was for clients to understand their abilities to achieve the things most important to them and how easy it was to demonstrate as a business and advisor in measurable ways the dollars your advice could put back in clients' pockets. It's awesome to see a client recognize that over the course of a conversation."
Results
Alleviation of clients' debt concerns
Andrew shared with us two client success stories of using the RightCapital debt management tools to demonstrate major savings opportunities, both married couples who were carrying a substantial amount of student loan debt. For the first couple, Andrew noted, "I knew there were improvements they could make with the way they were paying down their student loans, but when we started using RightCapital, we finally had a tool to be able to demonstrate that easily. Using the debt management tool, I built a proposal that showed a payment schedule for the student loan debt. In our next meeting, when I toggled that on, the clients could easily see the improvement in the success of their plan and that this plan was going to put $30,000 back into their pockets."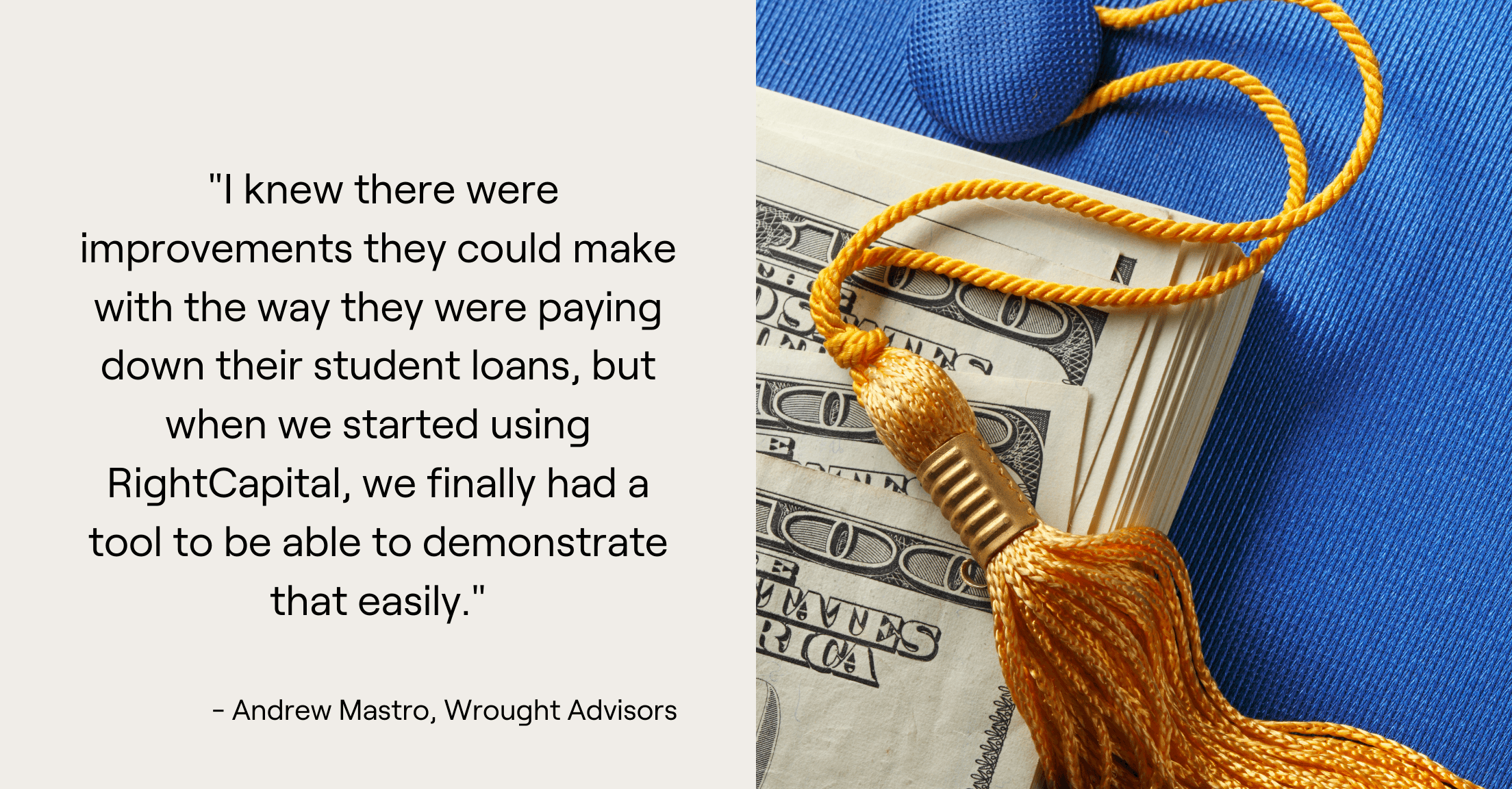 The next couple Andrew told us about had an even more complicated financial situation in that they had six figures of student loan debt and had also decided to retire early. "Using the RightCapital student loan tool, we were able to model different repayment plans and see that there was a much more optimal path for them than what they were currently doing. Also given their circumstances and the change of income, we used the Roth conversion tool to shift the tax characteristics of some of their income." Andrew mentioned that with the changes, he was able to take these clients from their current plan to a plan that would save hundreds of thousands of dollars over time but was still highly achievable. "It was clearly the most impactful meeting I'd ever had with a client."
Time-savings and efficiencies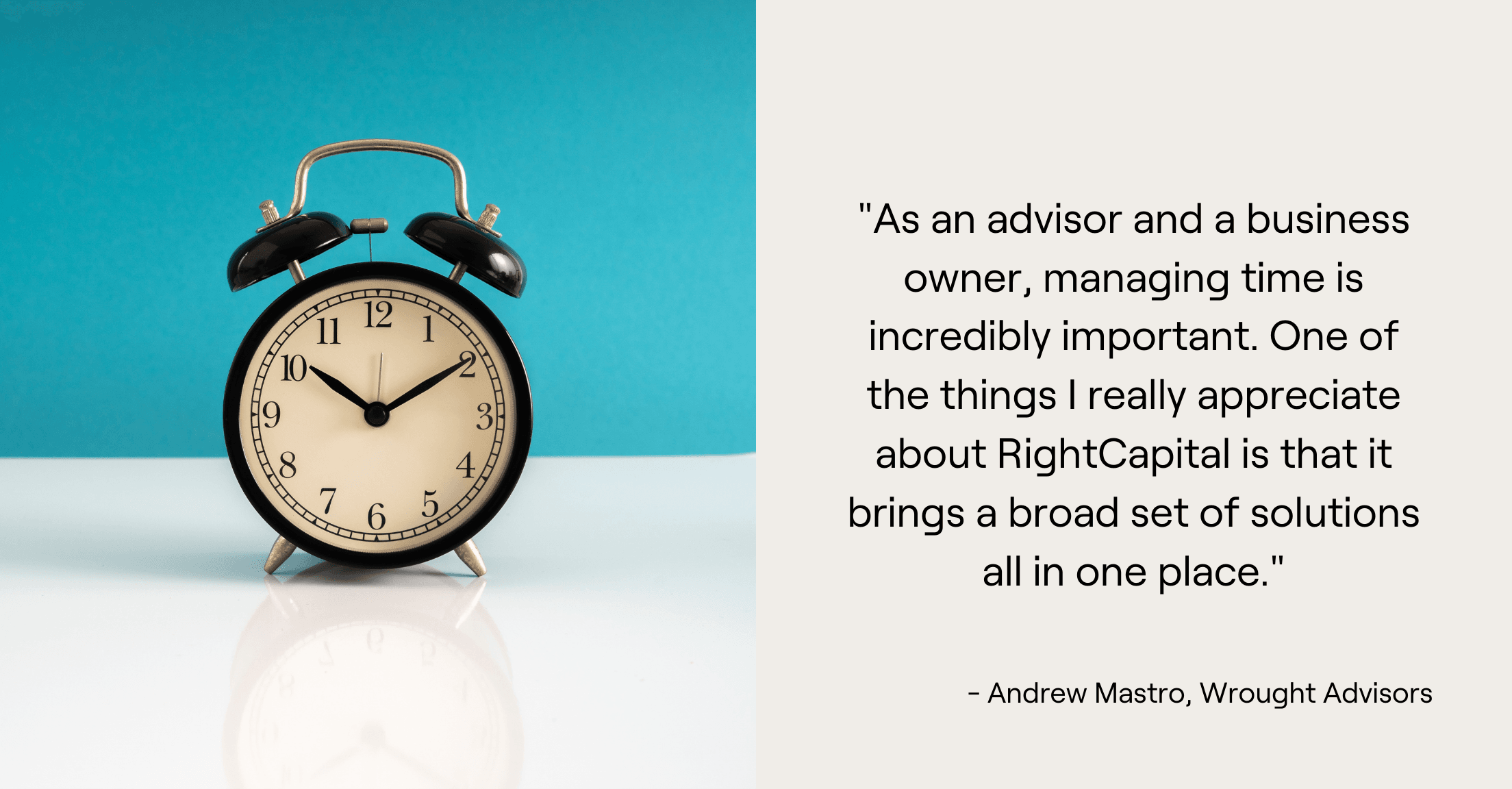 "As an advisor and a business owner, managing time is incredibly important. One of the things I really appreciate about RightCapital is that it brings a broad set of solutions all in one place." Andrew spoke about how RightIntel (available in Premium and Platinum subscriptions) gives a broad overview of the practice and highlights various opportunities or key milestones. He noted how the task management system helps keep clients to-do lists organized and saves him time in following up. Andrew especially appreciates the ability to create task templates so that he can create a standard list of tasks, for example, for newly onboarded clients. He also mentioned how the RightCapital Vault turned out to be a great time-saver and became the exclusive file-sharing system for Wrought Advisors. 
Client reactions
"What we consistently hear is how much clients appreciate the simplicity of their net worth profile on RightCapital." Andrew has received great feedback on the account aggregation feature (available in Premium and Platinum subscriptions) that pulls together all bank accounts, investment accounts, 401ks, and more. "Being able to keep track of real estate and business interests and have that roll into one net worth figure so a client can check in on where they stand…clients really appreciate that."
---
For more advisor success stories, visit this page.