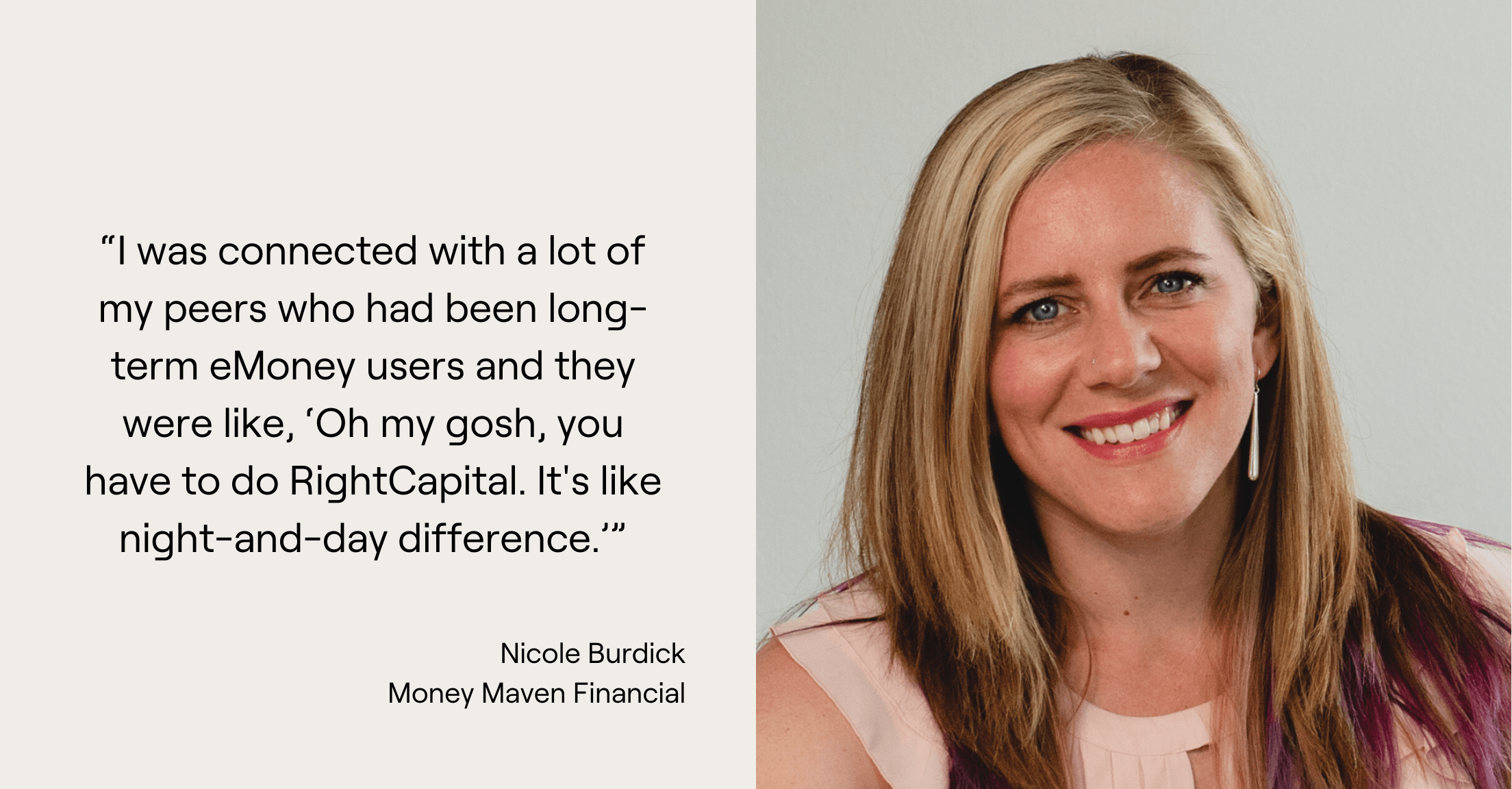 Nicole Burdick is the mastermind behind Money Maven Financial, a financial planning firm dedicated to empowering women. Her strategy involves clarifying intricate aspects of personal finance—including areas like retirement planning, life insurance, and debt management—by offering shame-free and accessible guidance. A former professional organizer, Nicole now helps people organize their finances instead of possessions and is writing a book for consumers under the Money Maven brand. Nicole was an eMoney user for years and transitioned to RightCapital when establishing her own firm.
Nicole Burdick is a Registered Representative with and Securities and Advisory Services offered through LPL Financial, a Registered Investment Advisor.
Challenge
A more efficient, self-branded platform
Initially, Nicole planned on sticking with her existing tech stack when starting her own practice, but she realized the need for enhanced efficiency. Additionally, it was important that she be able to personalize her client portal due to the pivotal role the Money Maven brand plays in her work.
Solution
A "night-and-day difference" from eMoney
Nicole continually heard praise for a particular financial planning software in conversations with trusted colleagues. Many long-term eMoney users were enthusiastically recommending RightCapital, citing it was a "night-and-day difference". Nicole suggests that if your current software doesn't comfortably align with your needs, making the switch sooner rather than later proves to be easier.
Results
Client satisfaction and confidence
Overall, RightCapital has empowered Nicole's clients to be organized, stay informed about their money, and understand their financial obligations better. One client, who had many questions when Nicole was using eMoney, expressed relief and satisfaction after the switch to RightCapital, stating, "This is so much better."
Nicole shared the story of a client who had almost given up, believing that he was not on the right financial track. Through RightCapital, Nicole could illustrate the significant impact of altering living expenses on his financial future. She believes that the ability of the software to visually communicate how minor adjustments can drastically improve one's financial situation over time is incredibly powerful.
Student loan capabilities
Nicole appreciates the Student Loan module within RightCapital. While student loans aren't her primary focus, she recognizes the importance of modeling them in client plans, something she could not effectively do within eMoney. She notes that student loans are often overlooked in the industry and finds it valuable to be able to call into the RightCapital support line and speak with people who are knowledgeable on the topic.
Superior aesthetics and visualizations
Nicole is a big fan of RightCapital's visuals, particularly Blueprint and Snapshot. "I think the visual aesthetic of (RightCapital) is just a lot easier to navigate." 
About Blueprint, Nicole notes how simple it is for clients to see their entire financial lives on one page. She appreciates being able to customize Snapshot, discussing how each advisor highlights different aspects of the plan and that topics shift over time as clients' life stages evolve. "I just feel like the ability to organize the data and see it in a way that makes sense…it's one of the differentiating factors of RightCapital compared to others."
---
Can't wait to see the difference RightCapital could make in your own practice? Sign up for a free demo today. For more advisor success stories, visit this page.