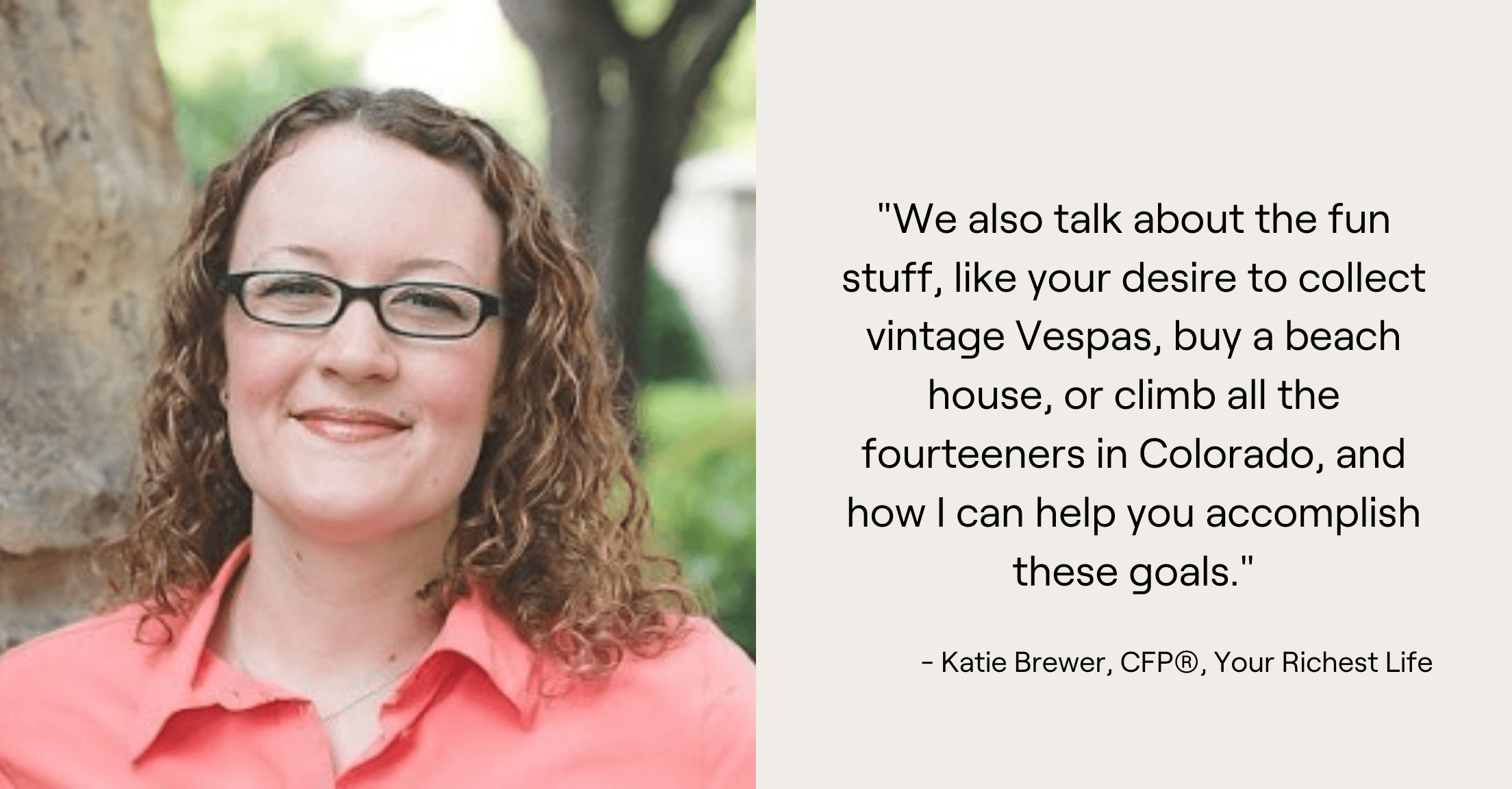 Katie Brewer is a certified financial planner. She started Your Richest Life because she believes that young professionals should have access to a financial coach. Below is our interview with Katie.
What are the planning services you provide?
I provide comprehensive financial planning services. This is the part where we get into all the details of your financial life. Typical stuff like your employee benefits, educational goals for your children, and estate planning. We also talk about the fun stuff, like your desire to collect vintage Vespas, buy a beach house, or climb all the fourteeners in Colorado, and how I can help you accomplish these goals.
I also help clients with project-based services. For example, if someone just left a company and doesn't know what to do with the pension options that are available, I can help with issues like that. In some other cases, I help review your 401(k) investments and contributions.
It is interesting to see that many of my clients are surprised about how intertwined some of the financial issues are. One area impacts other areas. For example, I might be looking into tax savings for a client but we quickly find that retirement contributions and a student loan payment strategy can have a significant impact on tax savings. This is where I can help with a very holistic planning approach.
What is the experience your clients can expect when working with you?
One of my goals is to provide a planning process that is as easy as possible for my clients. My planning process starts with a complimentary call. It is very easy to book a call using the online scheduling system. As part of the booking process, the client will also complete a high-level questionnaire. On the complimentary call, we discuss what they are looking for in terms of guidance and what they are looking for in terms of working with a financial planner. Once the client decides to move forward, we do the initial call where I will go over my client's needs, goals, and questions they are trying to solve. After I have gathered all the information and completed my analysis and recommendation, I send the financial analysis and recommendations to my client and I meet with my clients again to review the plan I created. I meet most of my clients virtually.
What are the technologies you use in your planning process?
I usually start the planning process with an initial round of data gathering. The technology solution I use to send and share information with clients is the secure portal via box.com. As there is a lot of confidential information my clients have, I do not use email due to lack of security.
I also use technology to schedule a time to meet virtually. There are a few service providers you can use to schedule meetings, but I use ScheduleOnce. Clients can easily book meetings with me via my website and clients will also receive reminders before the meeting.
Screen sharing is a very important technology for my practice. I work with many clients virtually and the ability to share screens has become critical throughout the planning process. I have used join.me, Zoom, Google Hangouts or Skype. I also offer to use video conferencing with clients if they prefer. Many clients have indicated their preference of using screen sharing and a phone call instead of video conferencing.
I also use Quickbooks to do online invoices. It is very easy to send clients an email with my deliverables, links for various resources as well and a link to payment, all in one email.
What technology solutions do you wish you have?
I wish that there was a technology solution that could help engage clients to sign a contract before the planning meeting. After the initial complimentary call, I send questionnaires to gather information. I usually send the contract before our meeting to discuss the plan and my proposal. Ideally, I'd like the client to review and sign the contract before our meeting. Often times, my email with the contract gets buried in the client's inbox and it can take some time to have the client review and sign the contract at the beginning of the meeting. It would be really awesome if there were technology solutions that could help me engage and remind the client to review and sign the contract before the meeting.
What is the best way for someone to reach you if they are interested in working with you?
They can visit my website at yrlplanning.com. It is very easy to book a 30-minute free initial call with me via the schedule system on my website. Alternatively, I can be reached at katie@yrlplanning.com.