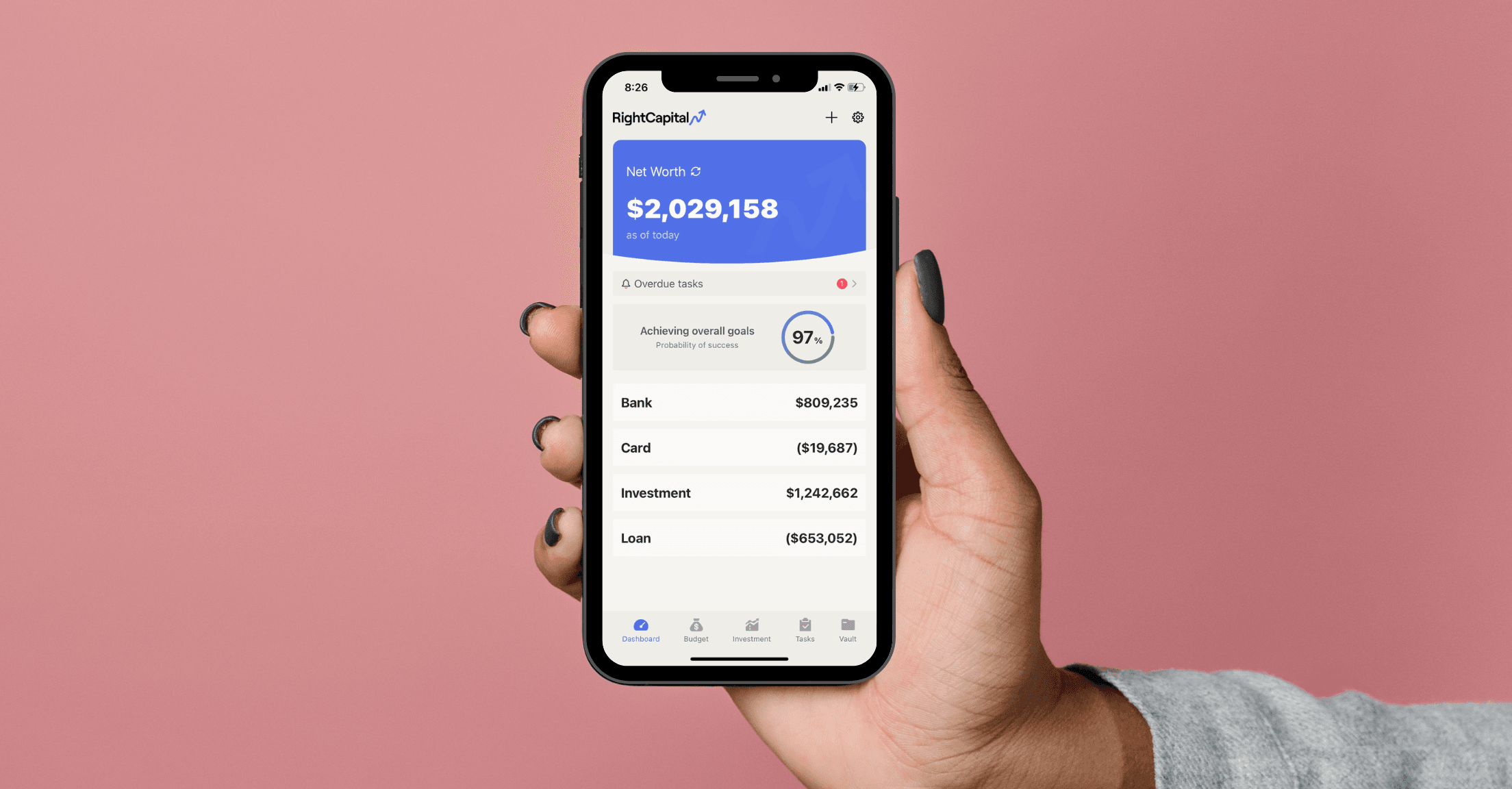 We are thrilled to announce major updates in the new RightCapital mobile app to further foster client communication and empower clients to view and update finances on the go, in the only true companion mobile app from a financial planning software. In this latest release, we've redesigned the Dashboard, Budget, and Tasks modules, plus—by popular demand—added the secure Vault document storage. With the latest RightCapital mobile app, your clients can monitor their financial progress while in the pickup line for daycare, on the treadmill, or at the airport gate.  
The RightCapital mobile app helps your clients: 
💸 Budget better  
The revamped Budget module means RightCapital can reduce clients' reliance on other expense-tracking apps or manual spreadsheets, and bring them more often to the app with your branding on it. Clients can set budget goals and track their current month's spending both against their total budget and for specific categories, such as "housing", "groceries", or whatever names they specify. They can link credit card and bank accounts directly from their phones to import transactions automatically and update them in real time. There are bar graphs for each category so clients can stay on top of budgets, identify patterns, and note how much they spent in the current month, last month, last 3 months, etc. 
☑️ Stay on the same page using Tasks  
Communicate instantly with clients using the redesigned Tasks module. Directly from their phones, clients can create new tasks for themselves, a co-client, or the advisor, mark tasks as complete, or delete tasks that they've created. This encourages the client to take more initiative in the planning process and collaborate with the advisor without having to call in or email.  
🔒 Share documents securely using the Vault storage  
As requested by many advisors, we've extended our popular Vault document storage feature from the desktop client portal to the mobile app. Now, clients can easily snap a photo of a document and upload it securely to the Vault, accessed exclusively by the client and advisor. Clients may also upload documents into a private folder for themselves for safe-keeping, replacing the need for a separate file storage app. 
📊 Review important metrics and accounts on one screen 
We've also redesigned the Dashboard, the home screen displayed when clients open the app. Clients can quickly scan their net worth, probability of success, and account totals. They can simply tap to drill down into each account's details. If there are unlinked accounts or overdue tasks, alerts will display at the top of the screen so clients can take immediate action. 
🤿 Dive deeper into asset allocation 
Last but not least, the Investment tab allows clients to go a step further when analyzing asset allocation. In addition to viewing asset allocation for the entire financial plan, clients can now see the breakdown for each investment account, e.g., real estate, international equities, and emerging markets.
---
The RightCapital mobile app is free for all but must be enjoyed with an invite to the client portal from a subscribed advisor. It is available for download in the Apple App Store and Google Play. Once clients log in for the first time, they can set the app up to sign in with Face or Touch ID, for even more ease. 
To learn more about RightCapital and the enhanced experience you can provide to your clients, schedule a personalized demo with a member of our team.