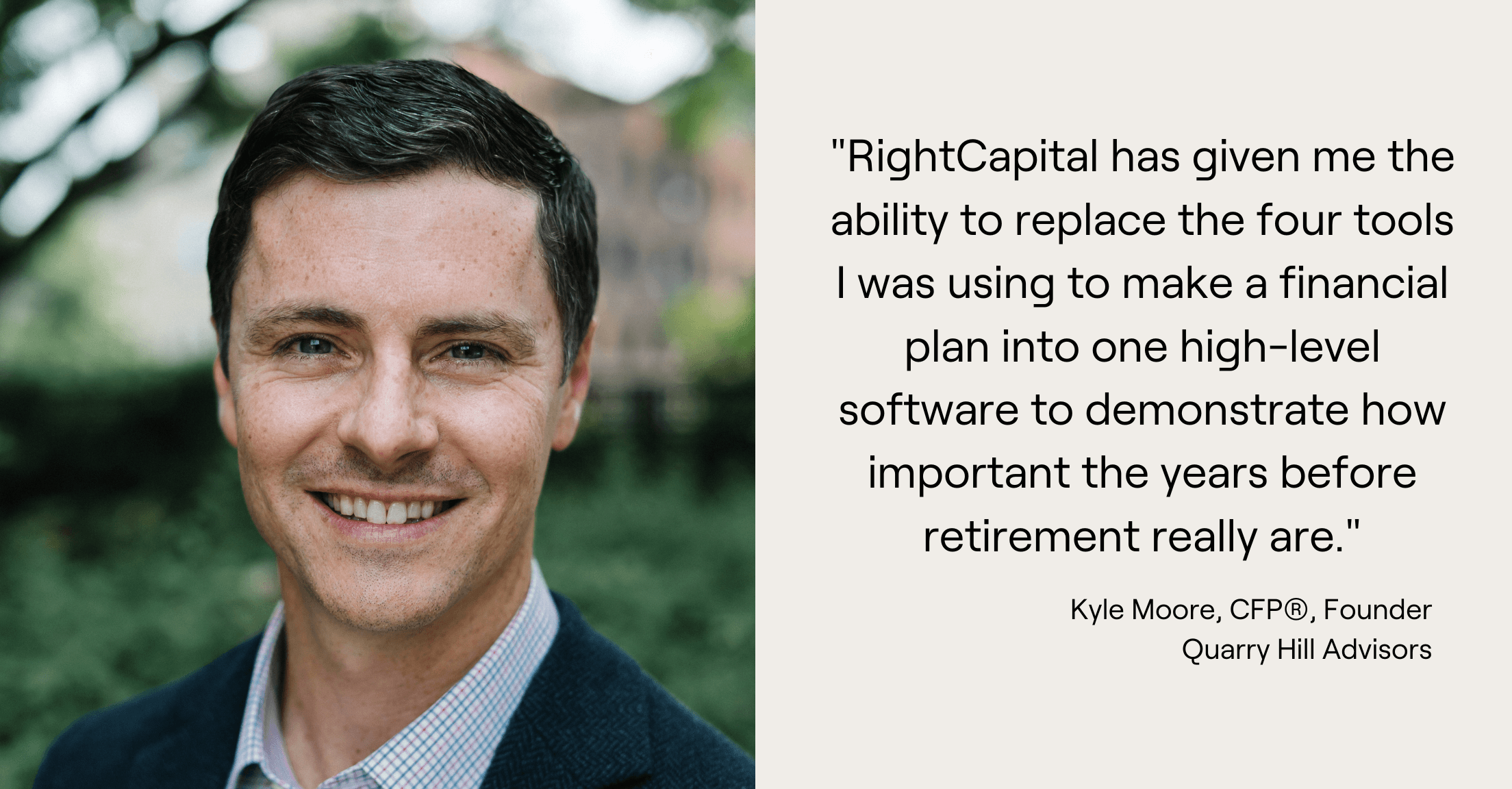 Kyle Moore, CFP®, the founder of Quarry Hill Advisors in St. Paul, Minnesota, started his practice to make a difference for his clients. Little did he know that his choice of RightCapital financial planning software would make a $30M difference for his practice in just one year! The mission of Quarry Hill Advisors is to elevate the standard of financial planning, providing a better solution for people seeking expert, objective advice and optimizing the financial lives of busy executives and retirees nationwide. Kyle has made tax planning and retirement the focus of his entire career and is committed to the highest industry standards of excellence and professionalism.
Challenge
Kyle was searching for a single software solution to replace the four separate tools he was using to create financial plans and smart tax strategies for his clients. He was also looking for a clean, simple-yet-attractive software interface, so he could show clients a detailed, visual representation of their financial plans—including their tax strategies—to make client conversations more engaging and productive.
Solution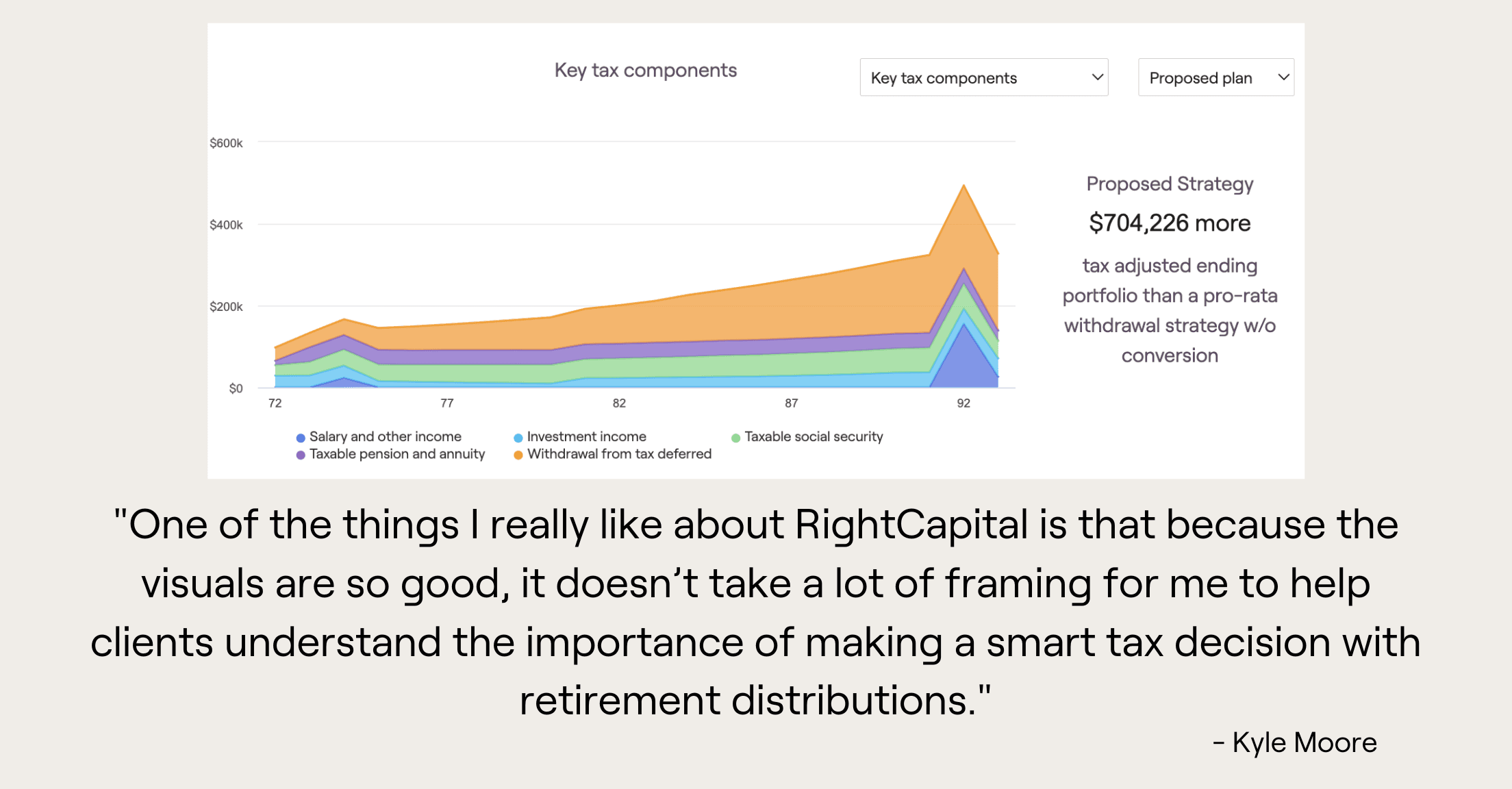 In 2017, Kyle discovered RightCapital Financial Planning Software and became a customer. He soon realized that with RightCapital's attractive and easy-to-use interface, he was able to quickly create "sample client" examples, which helped him demonstrate the value of his services to potential clients.
Once Kyle acquired a new client, RightCapital's simple onboarding process made it easy for them to enter their own information. The interface of the software proved simple to navigate, so clients could routinely complete the six-step data entry process without assistance, saving Kyle time and effort. And with RightCapital's powerful visualization tools, his client meetings became exponentially more productive. 
Kyle was delighted at his newfound ability to review scenarios on the fly with his clients, varying the level of detail depending on their needs and interests. "One of the things I really like about RightCapital is that because the visuals are so good," Kyle says, "it doesn't take a lot of framing for me to help clients understand the importance of making a smart tax decision with retirement distributions."
Result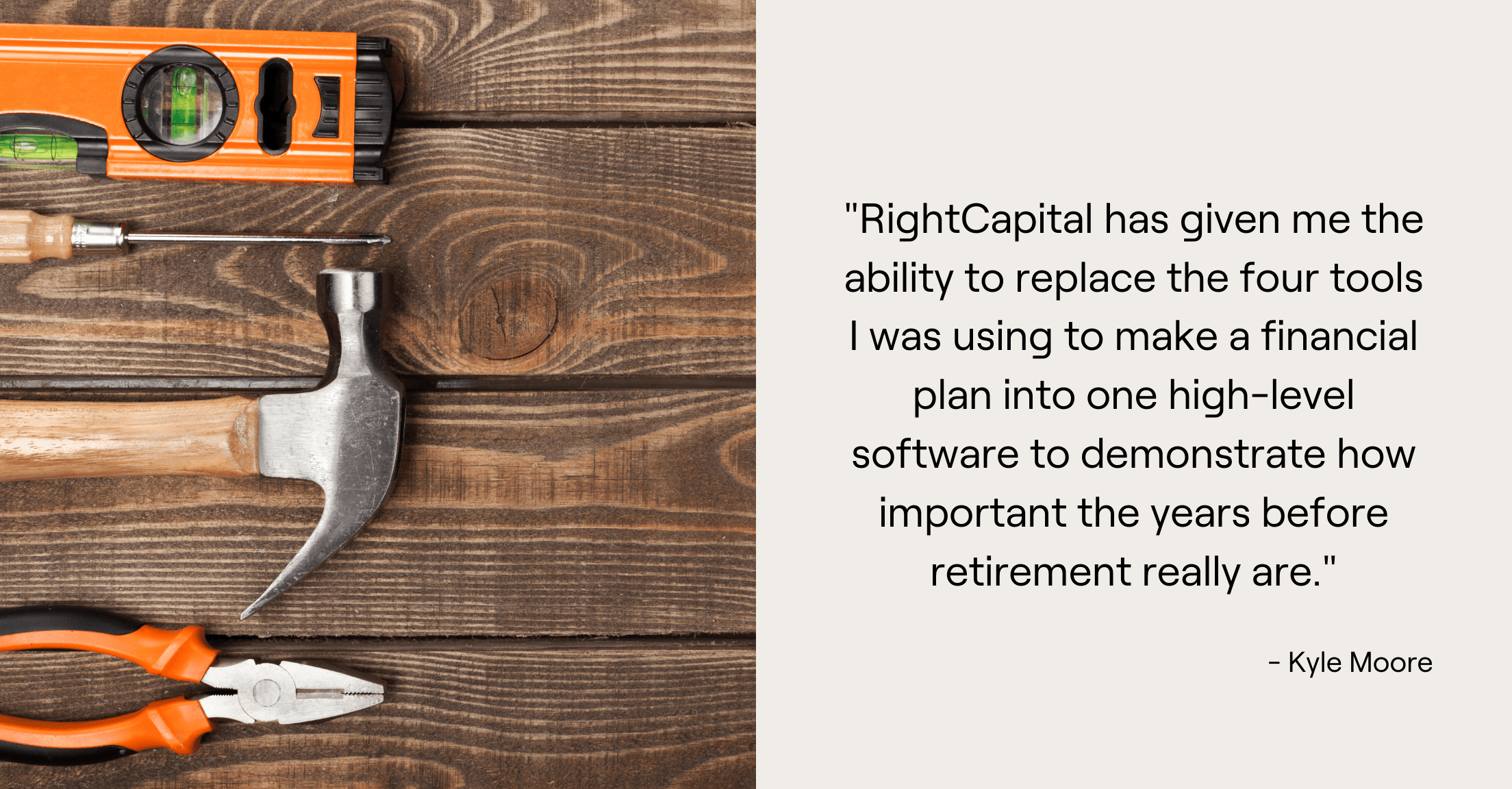 Because RightCapital's planning software enabled Kyle to show, rather than simply tell, how his services could help prospects reach their financial goals, his business started to grow. "Using RightCapital's tax-efficient distribution module, I'm able to easily show prospective clients how to save on taxes by altering their distribution approach." Kyle explains, "Showing the impact of different withdrawal strategies to a client's bottom line has been key to my firm's success."
RightCapital has made a qualitative difference in Kyle's practice, too. By using various features within the RightCapital software, such as the balance sheet, budgeting tool, retirement planning module, debt management tool, and the stress test, Kyle has been able to give clients a clear understanding of where their finances were heading, and how they could stay on track toward their goals: "RightCapital has given me the ability to replace the four tools I was using to make a financial plan into one high-level software to demonstrate how important the years before retirement really are." 
"Helping clients see the enormous impact of financial planning in general, I think, is really important," Kyle says. "RightCapital is helping me accomplish that, and it is beneficial for the client and for me!"
---
For more advisor success stories, visit this page.