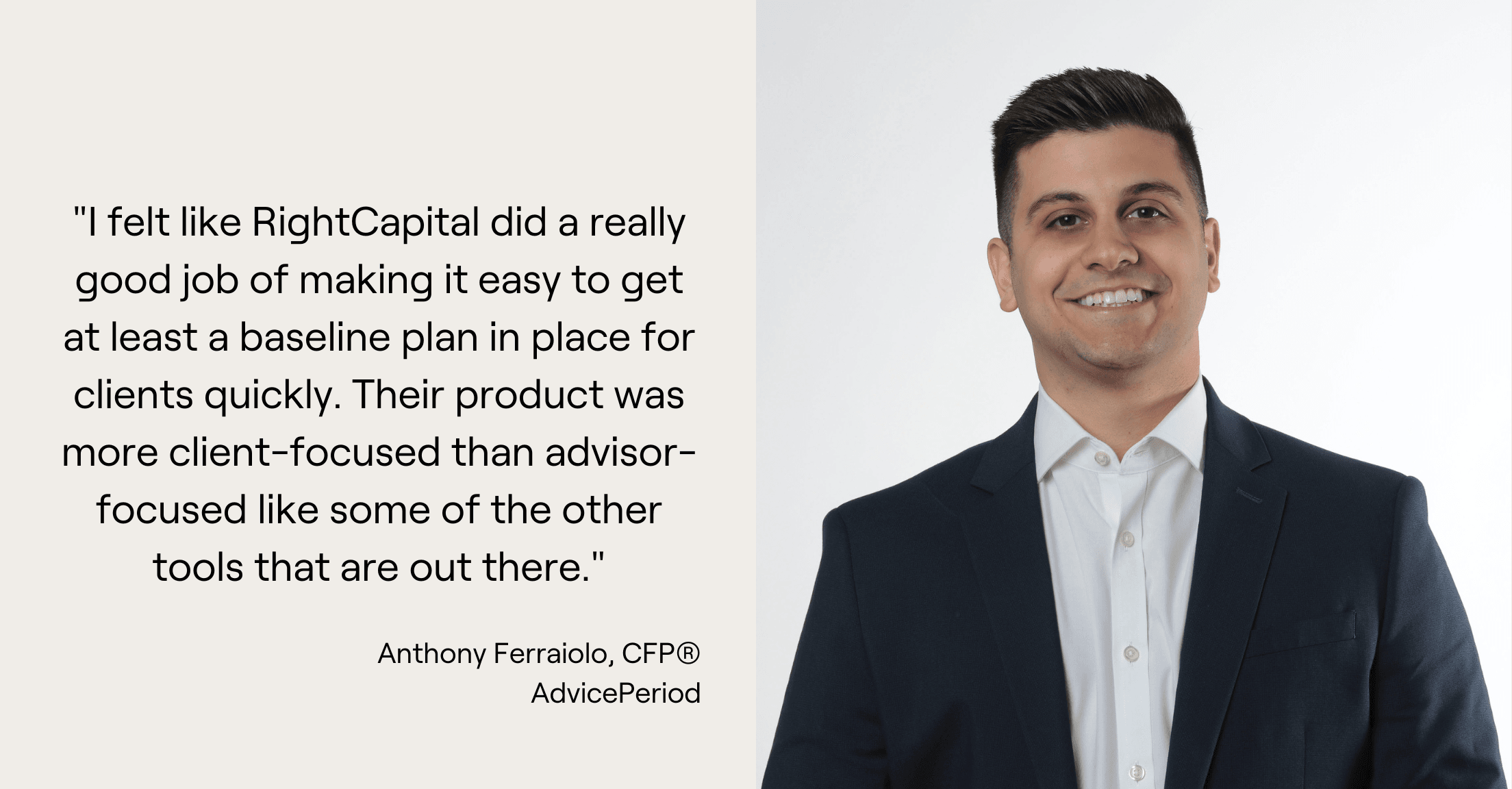 Anthony Ferraiolo is a financial advisor as passionate about sharing his financial planning ideas and insights as he is about making sure everyone hears about the great restaurants he finds. This personality trait of Anthony's is also why he was open to sharing his views on RightCapital and why he switched over from the software he was using while looking for a client-focused solution.
Challenge/Opportunity
Anthony had previously used alternative software at two different firms, in California and New York. When he had the opportunity to choose software at AdvicePeriod in Paramus, New Jersey, where he is now a partner advisor, he wanted something more client-focused than advisor-focused. "In the past, I've struggled with financial planning software that I felt was a little bit too catered to the financial advisor." He found that some software required more effort to develop a basic plan and provided an overwhelming amount of information that wasn't always useful.
Solution
Anthony considers himself "a true student of the industry" and while reading the Kitces survey and T3 survey became impressed with RightCapital's adoption rates and high ratings. He was also looking for software that aligned with his personal financial planning philosophy, which he speaks about here:
Results
Client Engagement
Anthony noticed a significant increase in client engagement with RightCapital. The Snapshot report, in particular, captured his clients' attention and helped him customize their financial plans based on their values and passions. He noted that when seeing Snapshot, peoples' eyes light up with an understanding they might never have had before. "I always joke, 'Print this out and put it on your refrigerator.'" He uses the text boxes within the Snapshot report to keep track of open items, future meeting agendas, and his clients' personal values—to shift things away from the quantitative aspect of planning more toward the person.
Anthony noted that both he and his clients enjoy the Tasks feature. "They love the gratification of checking that box and getting that item completed." He sets up the tasks in his advisor portal as due for the client, co-client, and himself, so that everyone is on the same page and receives the same notifications when items are due.
Ease-of-use
"I felt like RightCapital did a really good job of making it easy to get at least a baseline plan in place for clients quickly. Their product was more client-focused than advisor-focused like some of the other tools that are out there. There are fewer intricacies, such as the rate of return for specific accounts or the asset allocation, and the naming of items."
For Anthony's clients, who are primarily tech folks with stock options and retirees, he finds it particularly easy to demonstrate stress testing, the benefits of investing more cash, and various scenarios of managing stock equity. He discusses these topics in the clip below:
Innovation
At the time of this interview, Anthony had been working with RightCapital for about three years. "It's crazy to see what was there then versus today, now with the Snapshot, and all the other updates. It seems like every week there's a new feature."
Anthony continued, "What I love most about RightCapital is that it's a very innovative company and software. When I first started working with them, I had a client with a pension that was non-taxable at the state level. I submitted a request to add that feature and a few months later, there was a checkbox to say that this type of income is not taxable at the state level. Some of these other software companies are more established, they've been around longer, and they're less excited, it seems, to add enhancements because it might break something."
Support
Anthony is on a first-name basis with some members of the RightCapital support team. "Most questions can be answered by using the chat feature for immediate responses. There's also an easy way to jump on a call to figure out more complex questions where you might need a person to view your computer screen with you."
"Between all the resources, the chat feature, the YouTube channel, the webinars…it's just a matter of time until you actually pick up everything the software is capable of." He recommends focusing on essential functions used in your day-to-day life before branching out to explore additional features.
When it comes to his own ideas for what could make the software better, "I can send them to RightCapital and they get added to the list. Proof shows things are happening, and the feedback gets to the right people. Creating less friction to submit that feedback is helping push the software forward."
---
With RightCapital's client-focused features and support, Anthony has successfully increased client engagement and gained access to innovative and valuable financial planning tools. To explore how RightCapital could benefit your financial planning practice, schedule a 1:1 demo, and sign up for a 14-day free trial.
For more advisor success stories, visit this page.