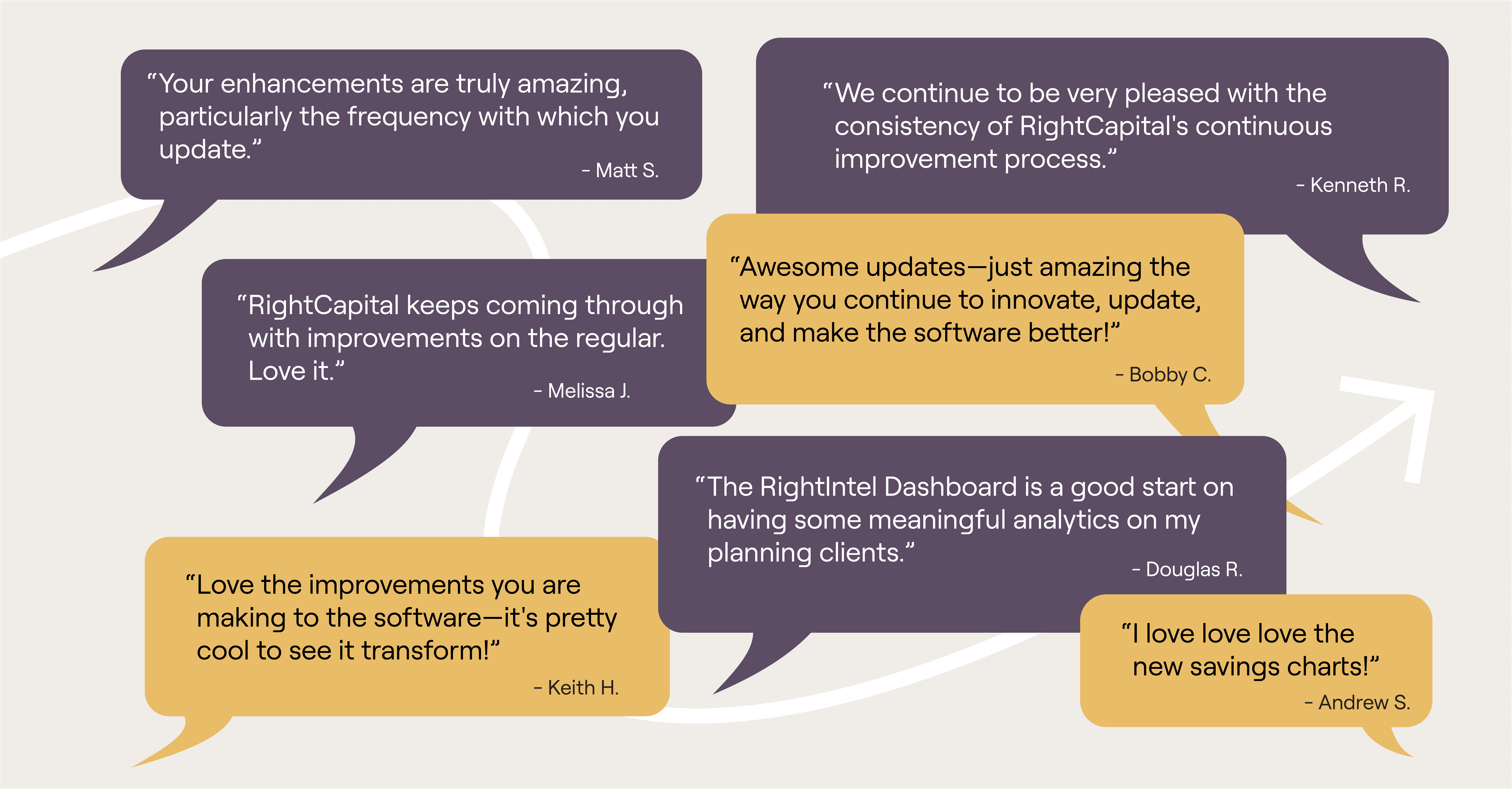 One significant differentiation of RightCapital from the older, more stagnant financial planning softwares is our staunch commitment to improvement and enhancement. If you're a current subscriber to our weekly updates newsletter, you saw more than 50 emails roll into your inboxes last year, highlighting more than 80 updates. That's a lot to track and we know you're busy, so below we've rounded up ten of the top features and product enhancements introduced in 2021. Make sure you didn't miss anything and that you're taking advantage of all RightCapital has to offer!
Dynamic Retirement Spending Strategies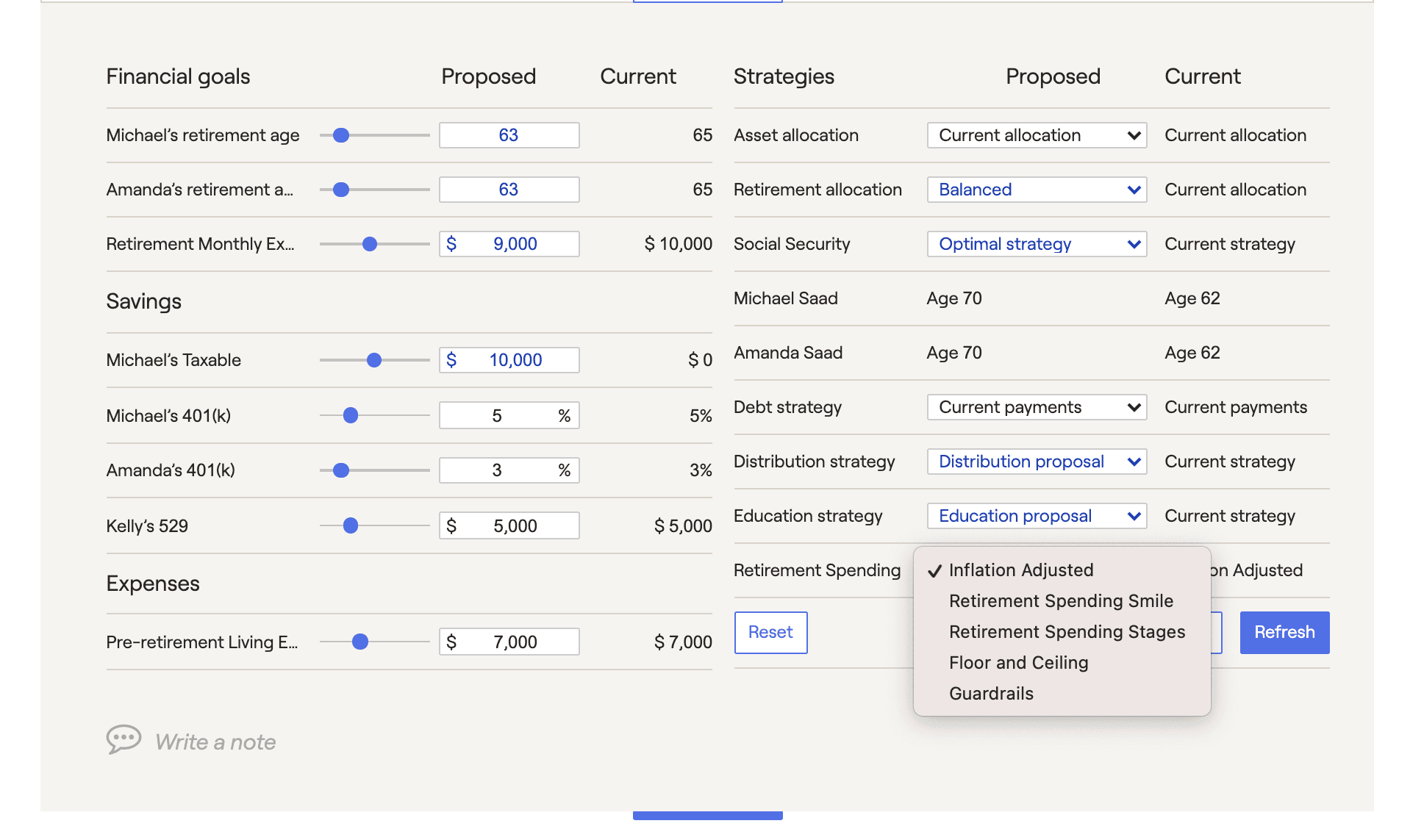 In August 2021, RightCapital became the first comprehensive financial planning software to launch Dynamic Retirement Spending Strategies within our platform. Other leading financial planning software typically focuses on inflation-adjusted retirement spending models, which doesn't cut it for the majority of savers. With this added feature, you can now model a variety of scenarios including "guardrails", "floor and ceiling", "staged spending", and "retirement spending smile", and adjust your clients' plans based on market projections.
To learn more about Dynamic Retirement Spending Strategies, read this blog post.
RightIntel
Business Intelligence Dashboard

RightCapital launched its first round of business intelligence updates in November of 2021, giving advisors with premium and platinum subscriptions a clean, simple dashboard with summary information about their clients. On one screen, you can now view the total number of clients, total invested assets, managed asset percentages, top clients by net worth, and more. The dashboard is customizable in that you can decide which charts you would like to see and in what order. Your clients' investment data is updated daily with the previous night's closing values.
(Additional RightIntel features have since launched in 2022 to include Client Overview with key statistics such as net worth, invested assets, insurance, open tasks, and last client logins and Opportunities where advisors can explore business opportunities within their created financial plans.)

Estate Planning Enhancements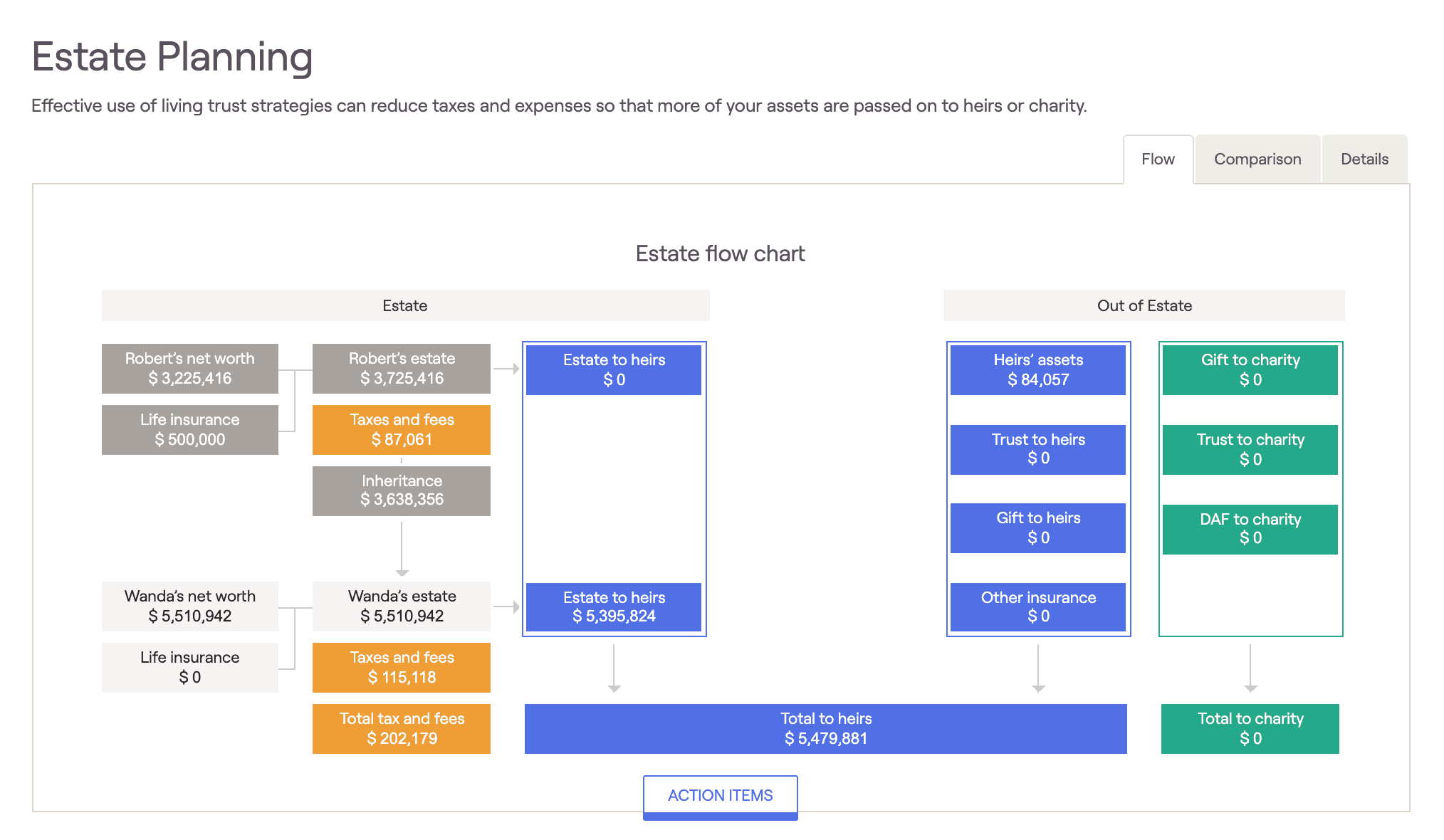 2021 was a big year for RightCapital's Estate module, starting with a new beneficiary section that allows you to capture beneficiary information for investment, bank, and life insurance accounts. Next, we enhanced the estate flowchart to include the ability to click on boxes for more information: For example, you can see the value of each trust passed on to heirs by clicking on the appropriate box. You can also now propose more irrevocable trust types and multiple trusts of the same types for your clients and see year-over-year trust values. 
Social Security Updates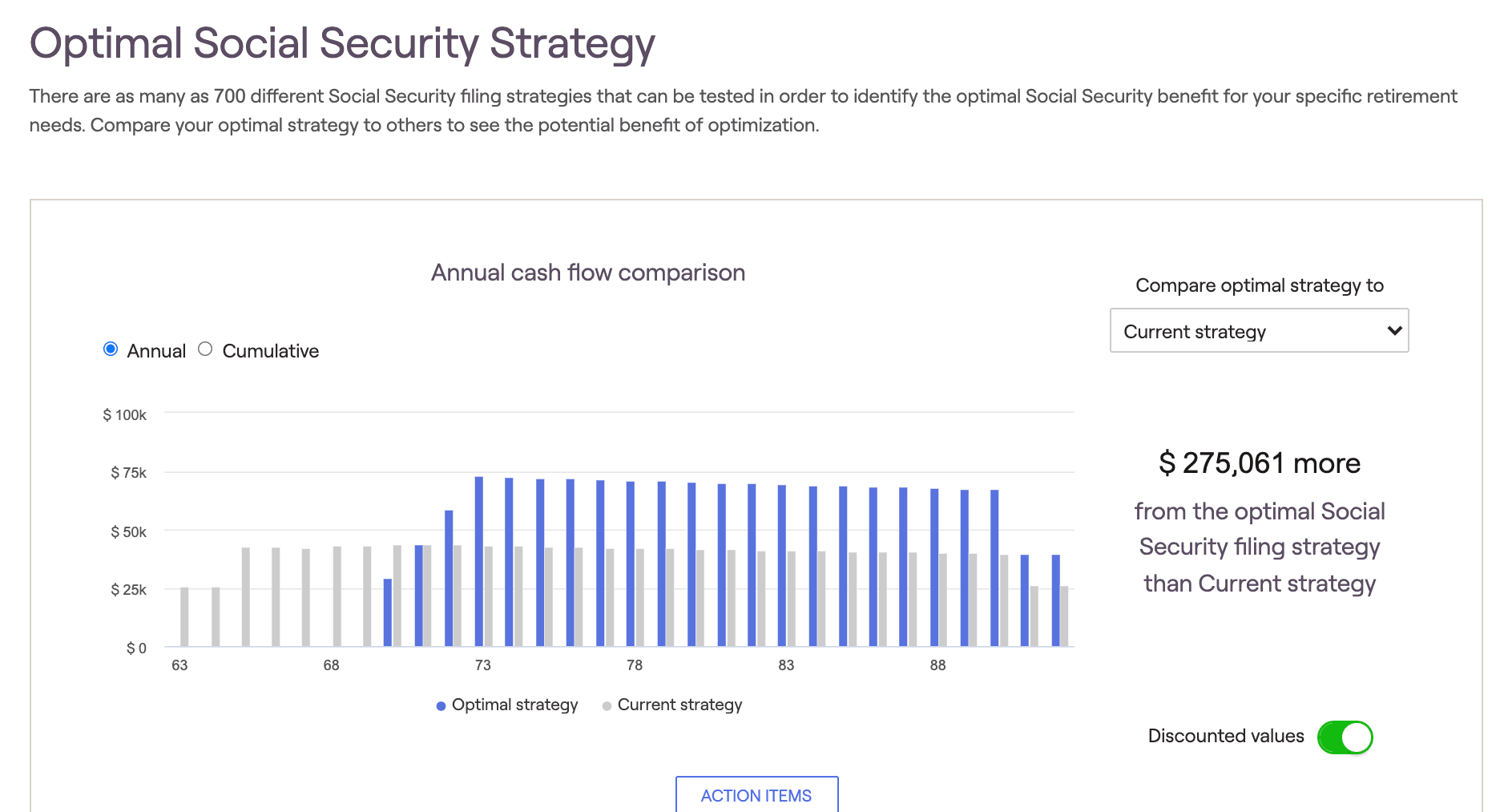 Our Social Security module went through a few important updates last year. When calculating Social Security optimization, you can now include a discount rate in the optimization to see the impact of potentially investing Social Security benefits if your clients were to file early. We've also added an income card that allows benefit modeling for previously divorced or widowed clients, which will calculate spousal benefits based on their ex-spouse's work record and incorporate survivor benefits for eligible widowed clients. 
Retirement Updates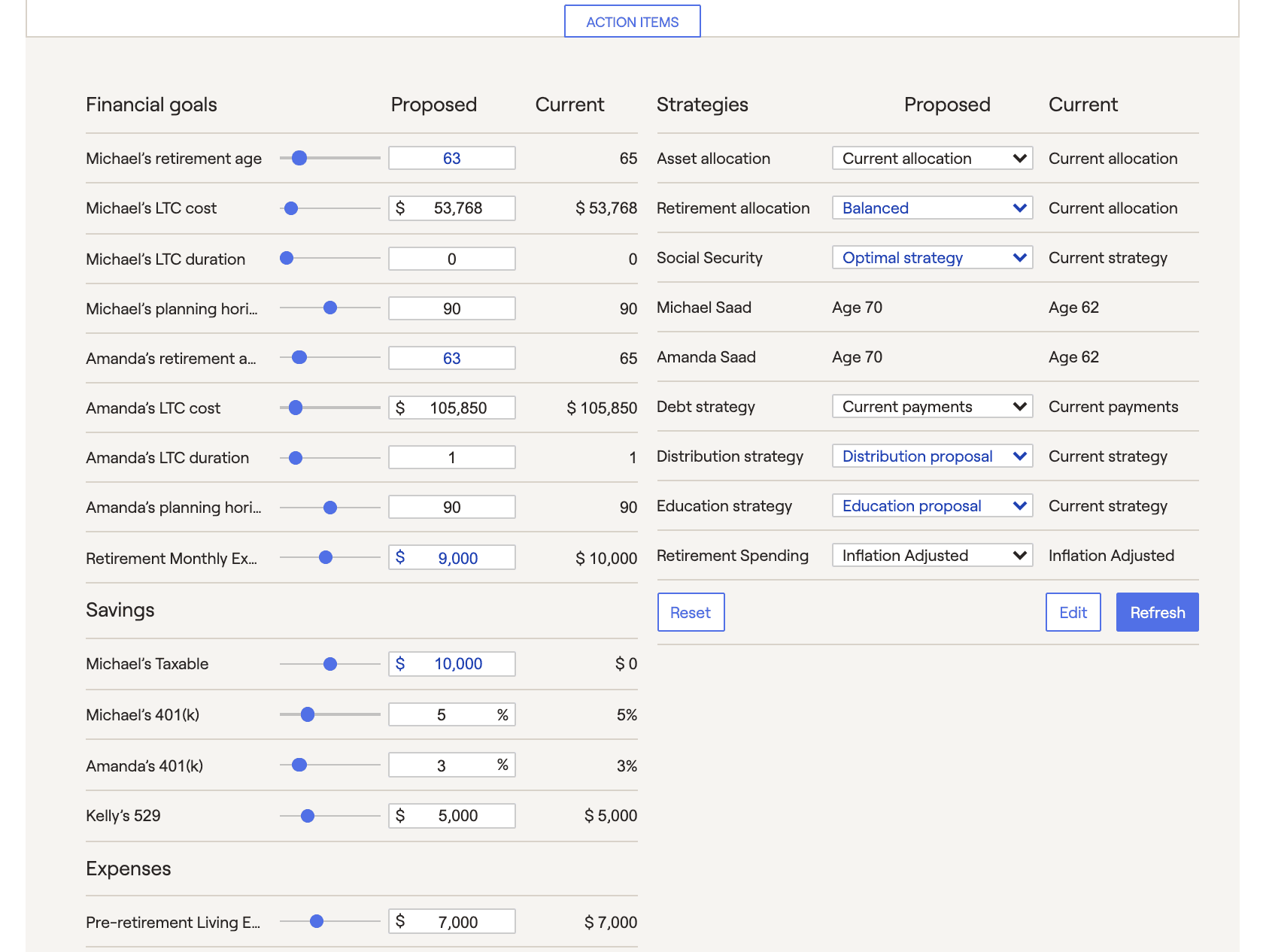 We've revamped the Retirement module by allowing for you to propose multiple scenarios without leaving the screen. Propose new goals or insurance action items for your clients and illustrate multiple annuity strategies, including proposing the purchase of annuities at a future date, all within the Retirement Analysis screen. Play around and easily create, edit, and remove plans, and take advantage of the ability to copy existing scenarios and action items.
New Disability Insurance Module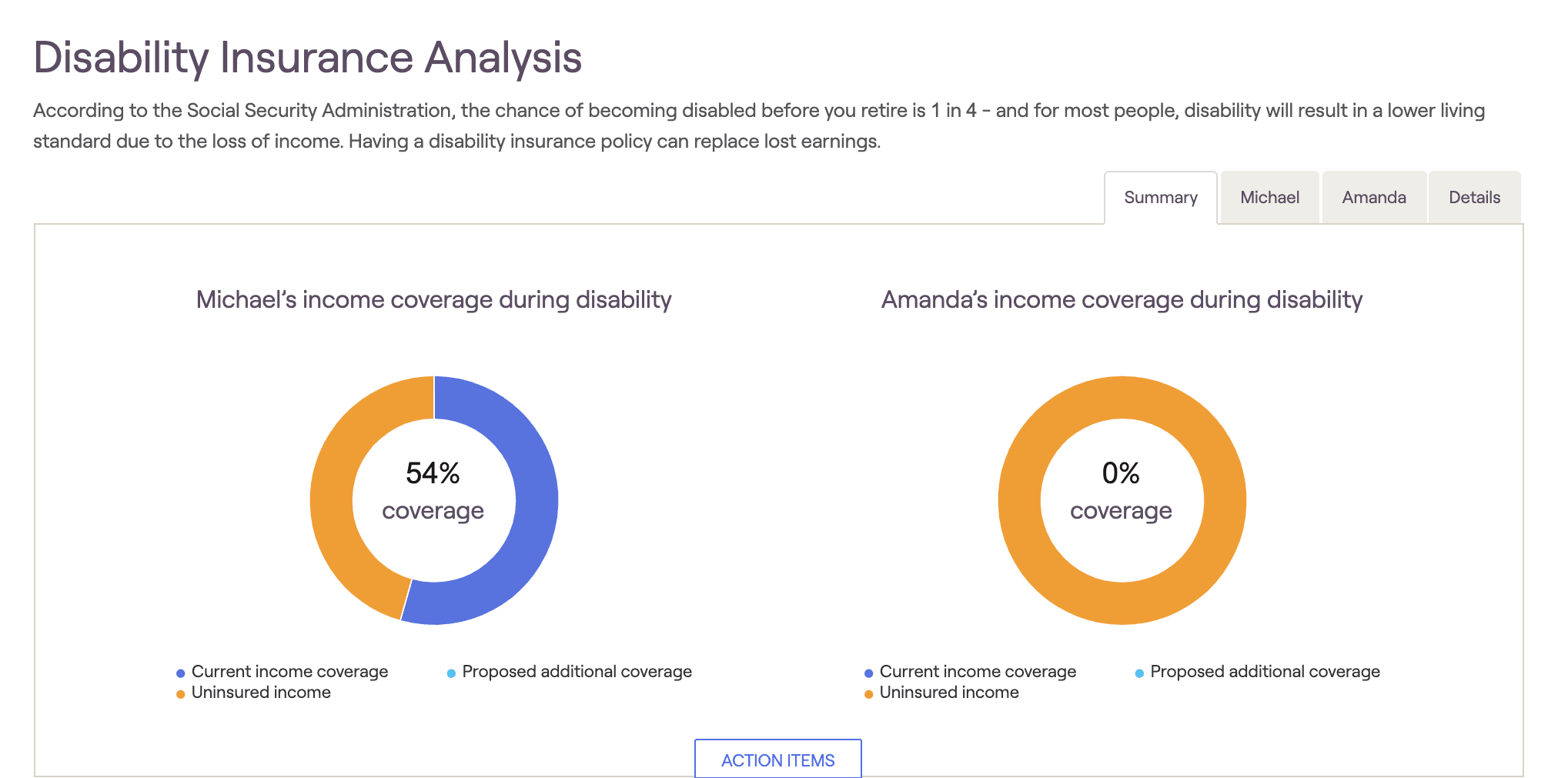 Did you know that 1 out of 4 people experience disability before reaching their retirement, according to the Social Security Administration? With the new-in-2021 disability insurance module, you can better demonstrate the impact of disability before retirement on a client's plan. You are now able to illustrate existing coverage as well as propose additional disability insurance in the "Action Items" section. Determine how much income will be replaced by insurance over the life of the plan and how that insurance could impact the client's projection.
Roth Conversion Updates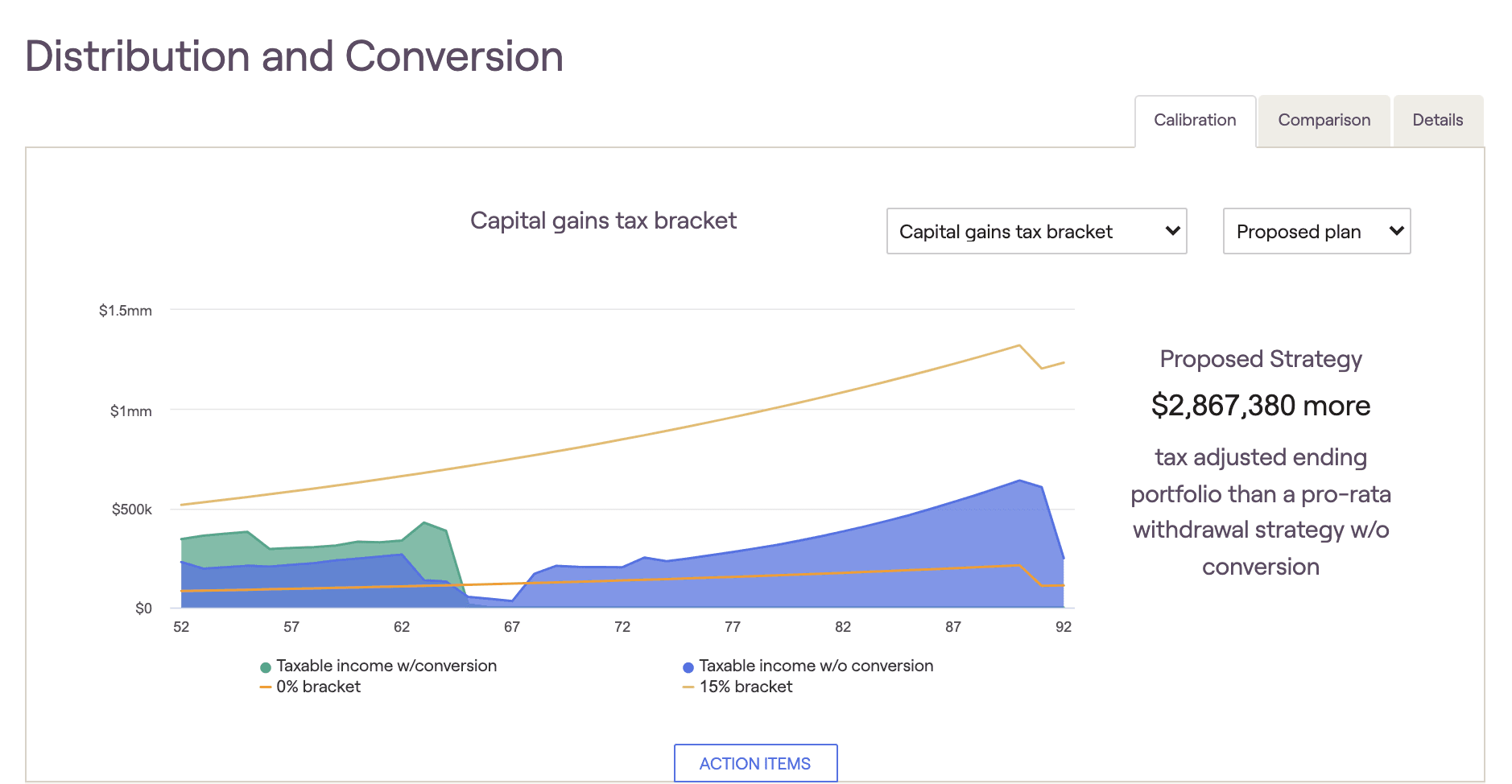 We increased the flexibility of our Roth Conversion feature in 2021. For example, you can illustrate distribution options for different plans within the Tax / Distribution screen, and show conversions that bring your client up to specific capital gains tax brackets, ordinary income tax brackets, or no IRMAA surcharge thresholds. 
Client-Specific Assumptions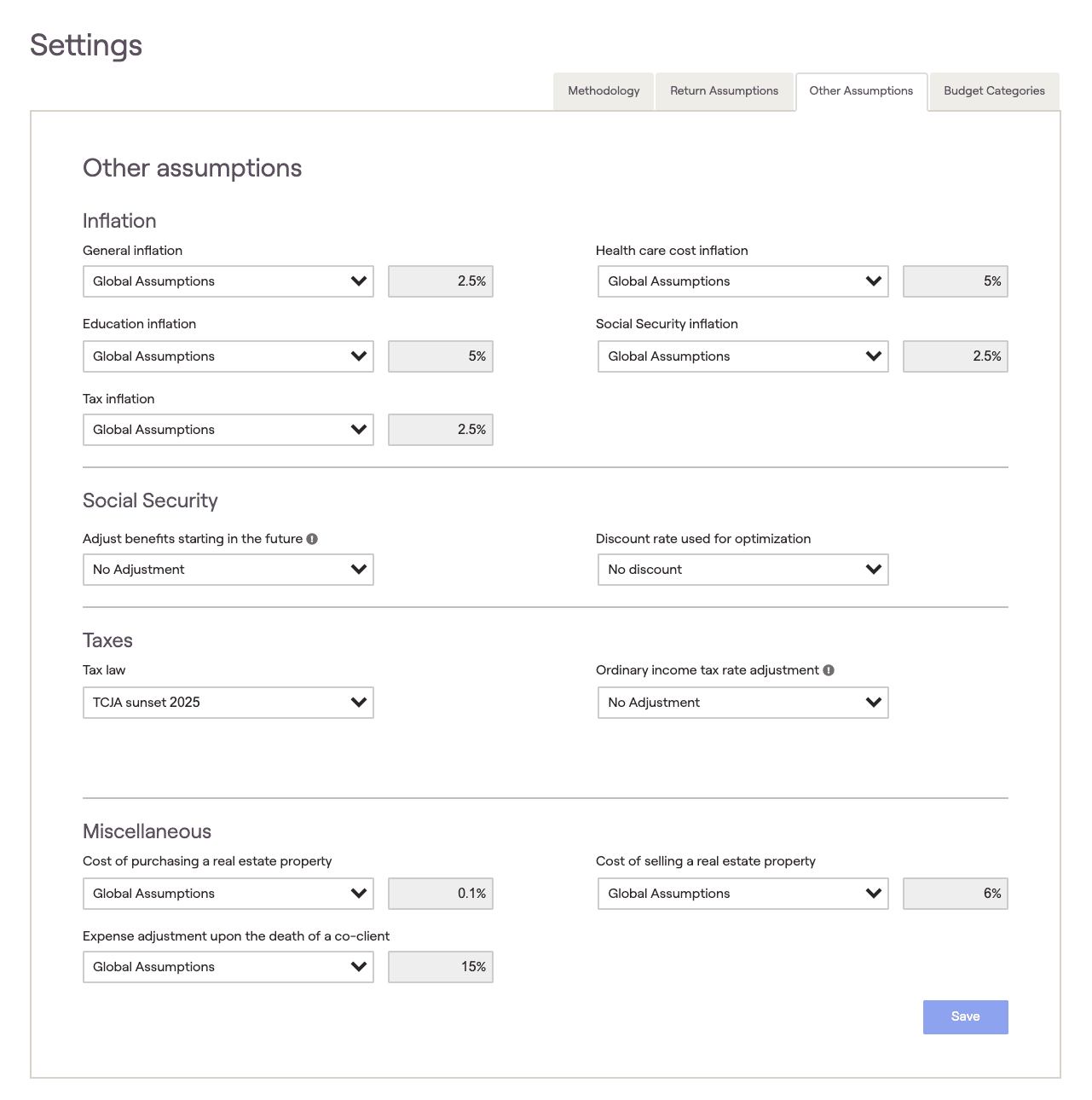 We know every client is different so we have built more flexibility into the platform when it comes to assumptions. You still have the ability to set assumptions to apply to all of your clients, but now you can also set specific assumptions per client for return assumptions (percentages of interest, dividends, and capital gains), as well as for items such as cost of property purchase, cost of selling a property, and expense adjustment at first death.
New Charts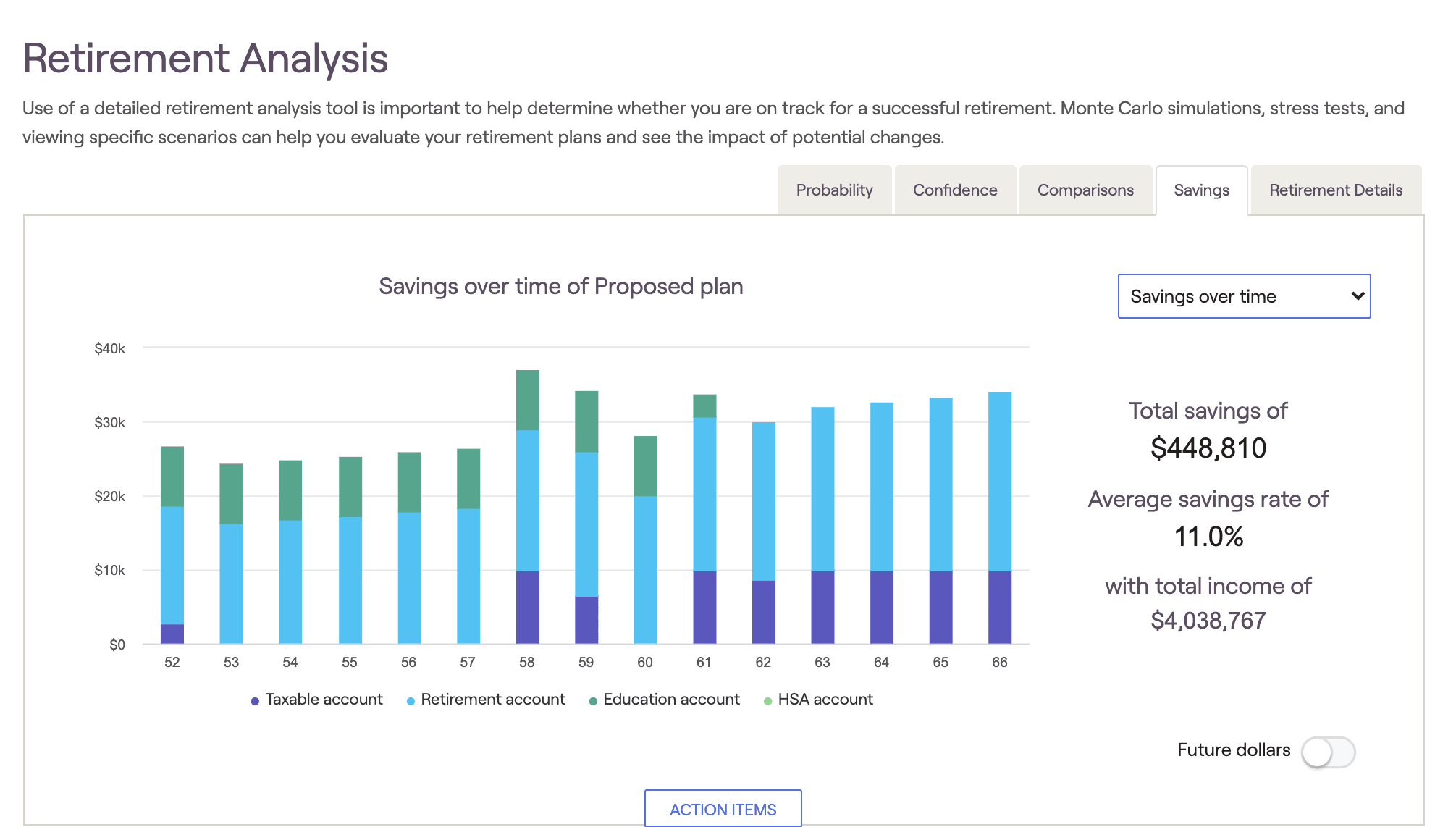 We added new charts in the Retirement Module to help you illustrate the value of savings to your pre-retiree clients. For pre-retirees, the four charts in the "Savings" tab demonstrate current year savings, savings over time, savings rate, and projections of accumulated assets at retirement. View all projection charts in today's dollars with a simple adjustment. For clients who are already retired, you will find charts showing withdrawal rates and retirement spending of proposed plans within the "Retirement Details" tab.
A RightCapital Refresh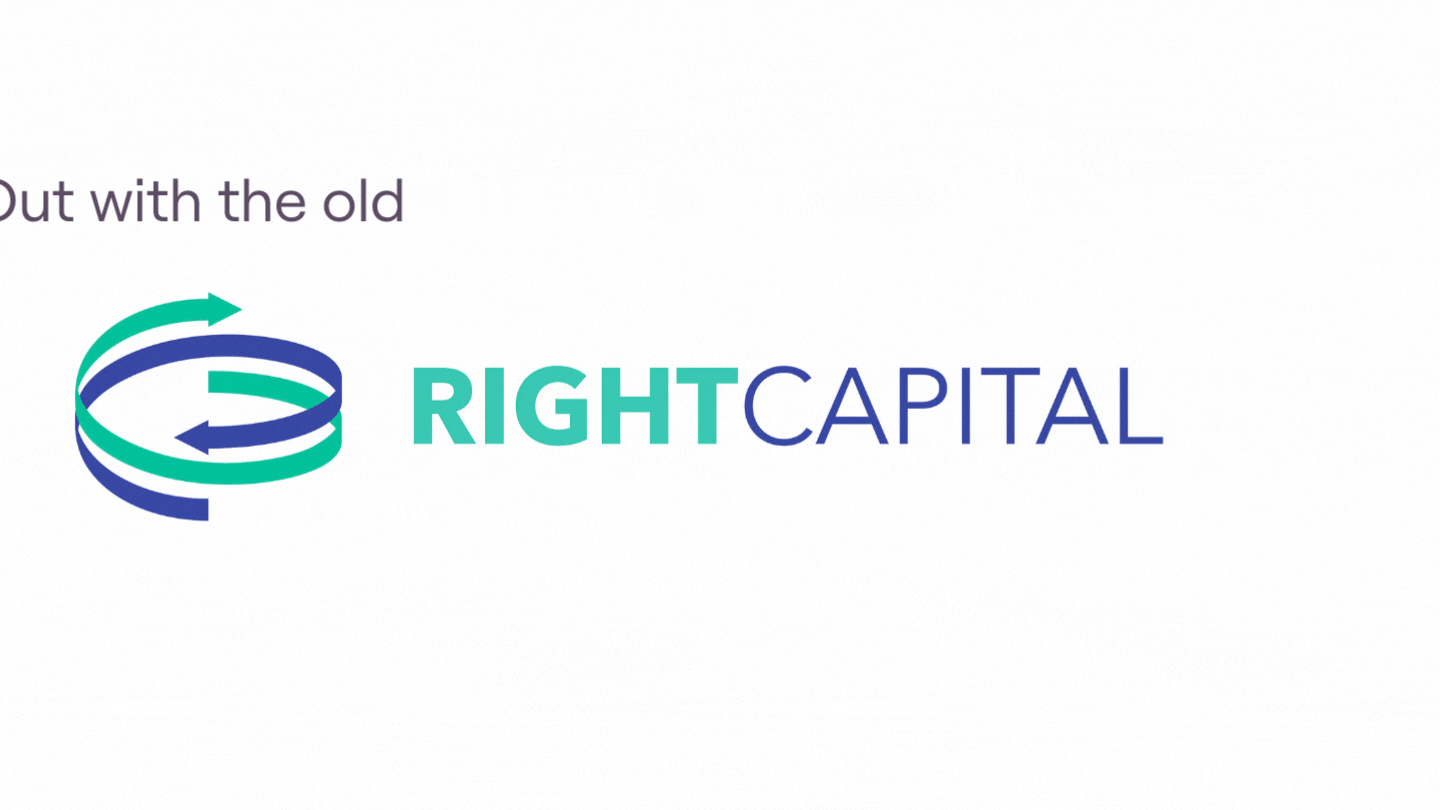 Last but not least, RightCapital got a makeover—or a "glow-up", as the kids say—during the Thanksgiving weekend 2021. We introduced a new logo, font, and color scheme across our external website, social media pages, marketing materials, and, of course, within our financial planning platform, for a fresh and contemporary look-and-feel.
---
RightCapital sure had a busy year in 2021, but we're even more excited about what's to come in 2022. We take advisor feedback very seriously so if you have any recommendations, please get in touch. If you haven't tried us out yet, sign up for a demo to try all the above features and more for yourself, free for 14 days!