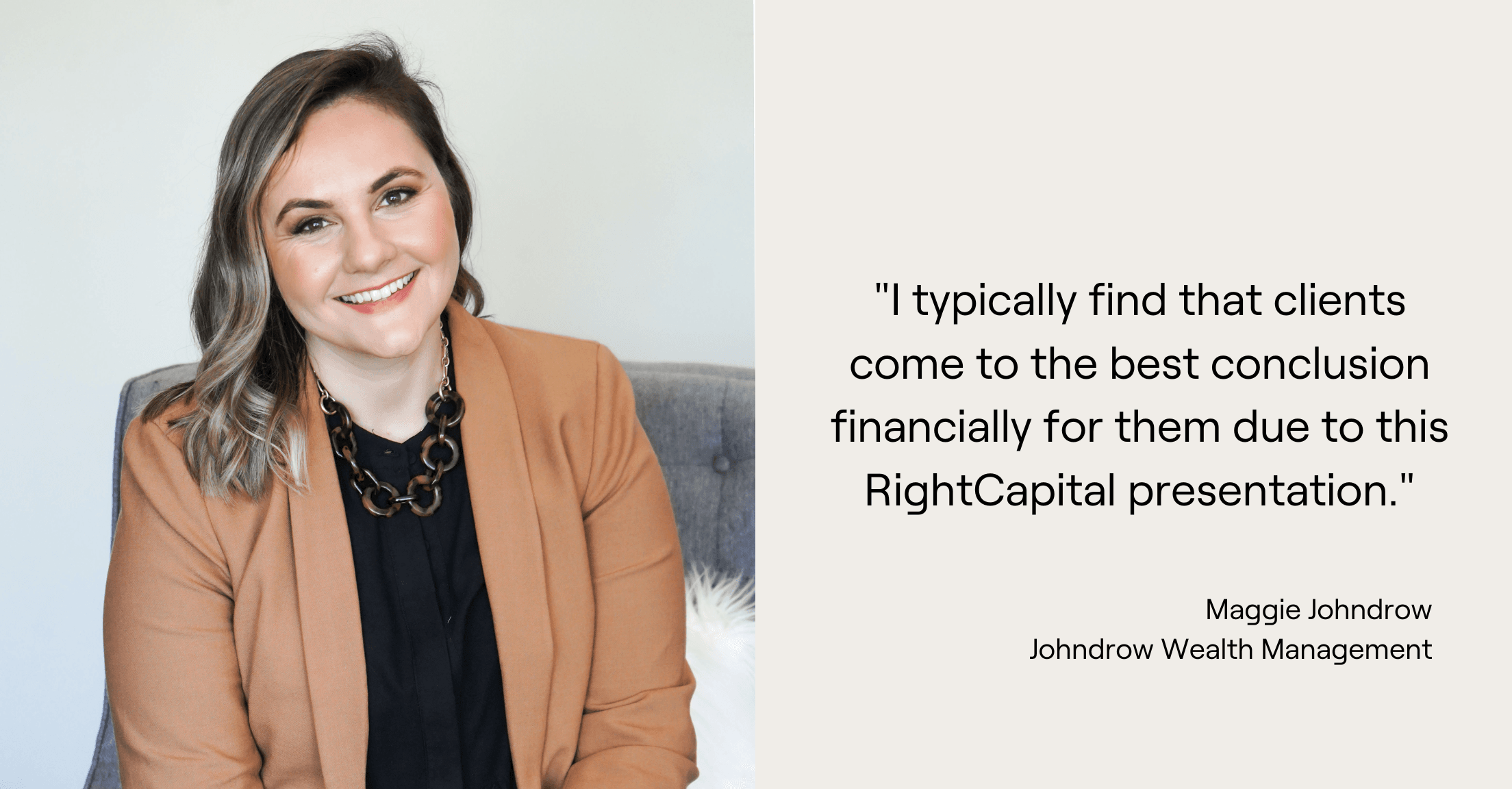 Maggie Johndrow holds many titles—managing partner and financial advisor at Johndrow Wealth Management; M.SC.; CFS®; CDFA®; an Investopedia 100 Top Advisor of 2022; and more. Johndrow Wealth Management has offices in Farmington and Westport, Connecticut. It is a women-owned and -operated, primarily fee-based practice that has been in business for around 40 years. The practice works with two client bases—pre-retirees/retirees who are looking to achieve their retirement goals and those in their 30s and 40s who are building wealth. 
About being a financial advisor, Maggie says, "There's this old adage that money is power, and I interpret power as the ability to make the choices that are right for you—whether that be to take a different job, to go on sabbatical, or when and how to retire. I believe as an advisor, I help empower people to make those choices."
Challenge/opportunity 
Maggie was originally using a competing financial planning software but found it lacking in three areas. She didn't love the client interface, it didn't have a robust cash-flow section, and it couldn't toggle between goals-based planning and cash-flow based planning.
Solution
Maggie found RightCapital with an internet search and was delighted with the client interface and ease of use. When it was introduced at the Commonwealth Financial Network's national conference that fall, Maggie signed up and hasn't looked back since.
Results
Ability to illustrate scenarios clearly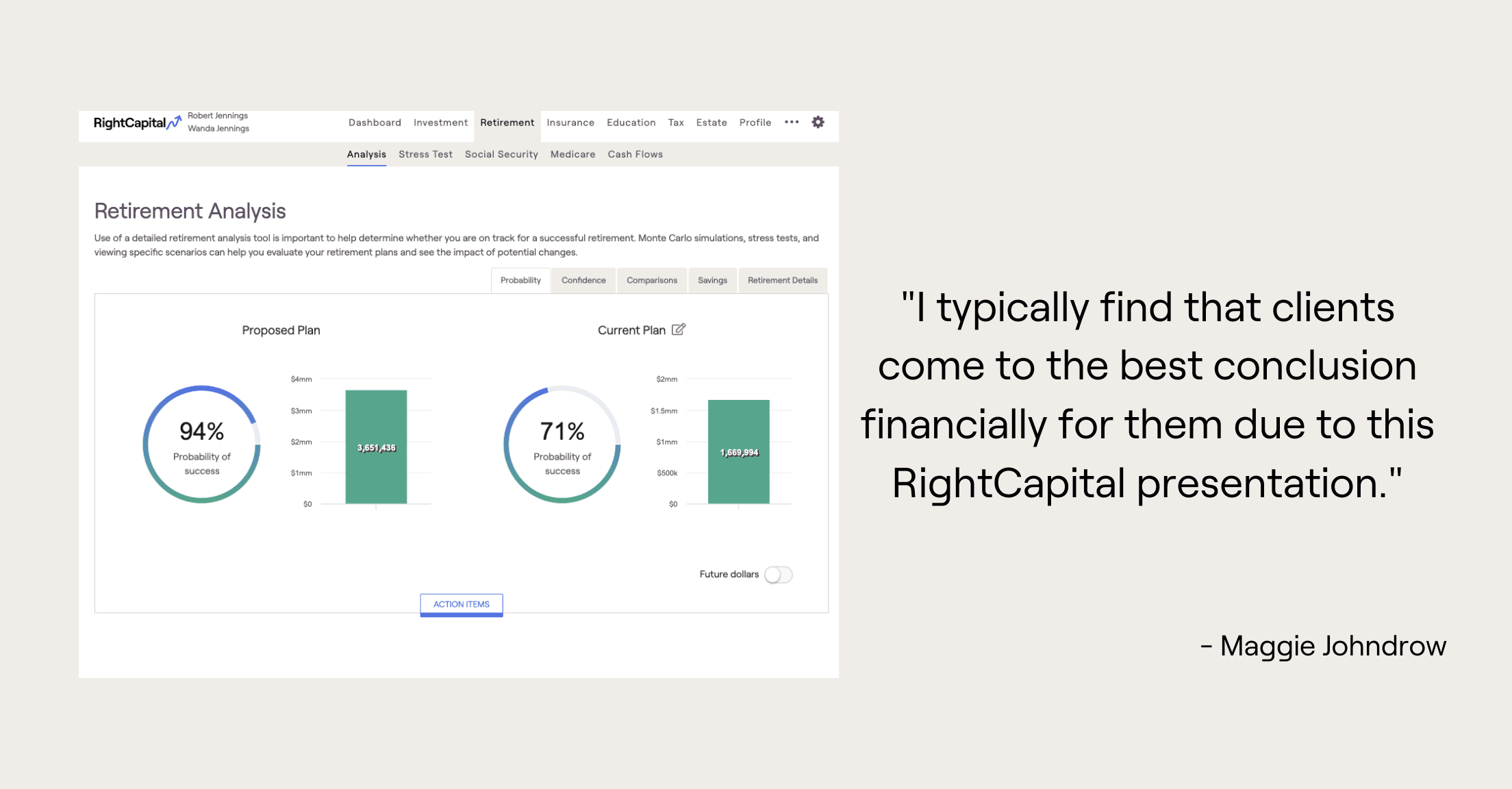 Maggie finds RightCapital most useful with clients going through major life changes because of its ability to illustrate a variety of scenarios. As a Certified Divorce Financial Advisor (CDFA®), she works with many clients who are suddenly in new financial situations, often being tasked with making decisions on how to divide assets that were previously shared. These decisions can come with many emotions, for example, if someone wishes to remain in the family home. RightCapital helps take the emotions out of the picture and helps clients visualize their financial futures if they were to choose the home over a retirement account, for example.
Ease of use and success with support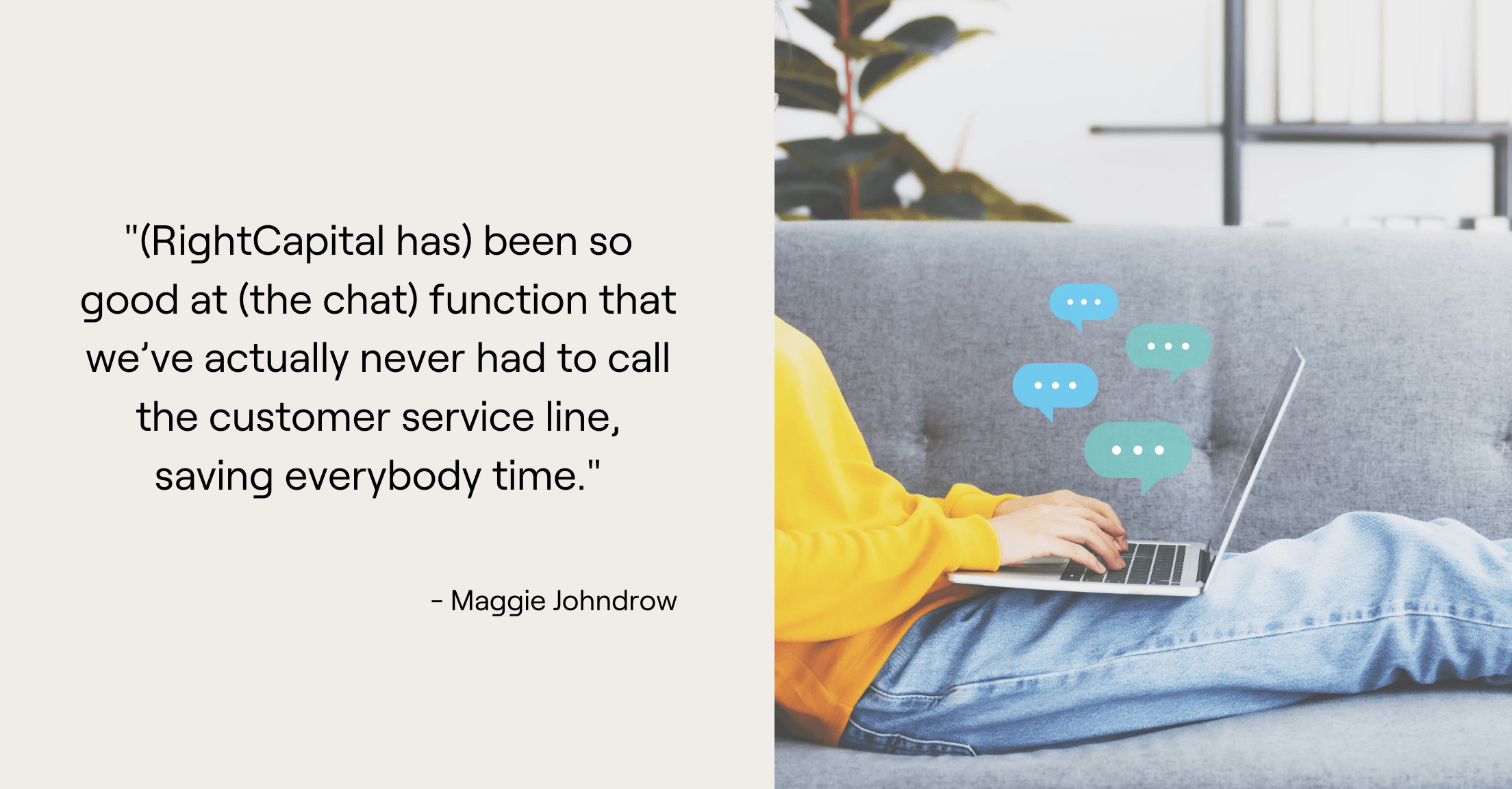 Maggie's initial reaction to RightCapital was how easy it was to use. "It's very intuitive, but what I've been most impressed with is the help function." Maggie and her team use the chat box within the platform and they appreciate that the chat is answered by a real person who can help troubleshoot the exact problem in the exact plan. "They've been so good at that function that we've actually never had to call the customer service line, saving everybody time."
The Johndrow Wealth Management team enjoys the ease of entering the data into the system. Office and Operations Manager, Susan Weingaertner, says, "The profile tab is allocated into income, expenses, goals, and on each of those tabs are certain cards that you enter, whether it's income from a salary, income from a bonus. The layout's very easy."
Help with prospecting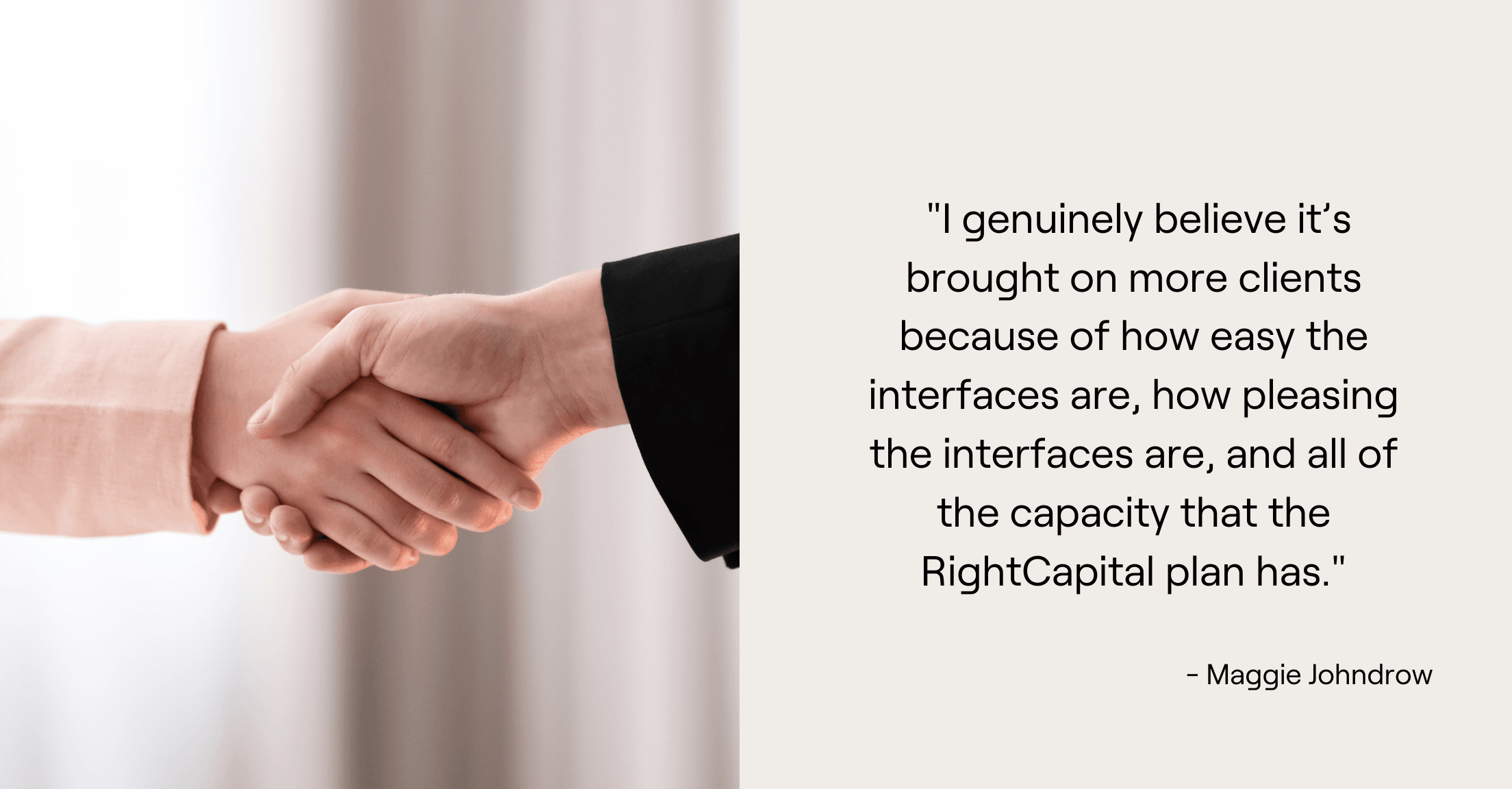 "RightCapital also really helps with prospecting new clients. Typically, any client who comes on board, we discuss investment planning with, but also financial planning as we believe that is the foundation of any good investment management plan." Maggie told us that they've created a fake client profile for prospects to view to show them how RightCapital works. "I genuinely believe it's brought on more clients because of how easy the interfaces are, how pleasing the interfaces are, and all of the capacity that the RightCapital plan has."
Client engagement
Maggie says her clients love being able to enter the RightCapital client portal and toggle between the various inputs (changes to longevity, retirement age, retirement spending, etc.) to see the impact to their plans. "For me, the best part is that it doesn't save, so the work I've done is the default."
Stress testing
"The stress test section shows clients' biggest fears when it comes to the market, retirement, and reaching financial goals," Maggie notes. "For example, what if Social Security is less, what if markets decline, what if inflation is higher, what if taxes are higher—you're able to stress test specific situations to understand impacts to the plan, again, providing comfort to clients to let them know you've considered all of those factors." 
Johndrow Wealth Management
HQ: 2 Bridgewater Road, Suite 101 | Farmington, CT 06032
NY Metro: 1555 Post Road East, Suite 203 | Westport, CT 06880
Phone: 860.470.7424 · Fax: 860.321.7261 · Web: www.johndrowwealth.com 
Securities and advisory services offered through Commonwealth Financial Network®, member FINRA/SIPC, a registered investment adviser. Fixed insurance products and services are separate from and not offered through Commonwealth Financial Network®.
The annual Investopedia 100 list honors financial advisors who have demonstrated top-of-the-industry skills in the areas of reach, community support and commitment to financial literacy. This award does not imply an endorsement, recommendation, or otherwise reflect the performance of the advisor or any account. For more information visit Investopedia.
---
For more advisor success stories, visit this page.