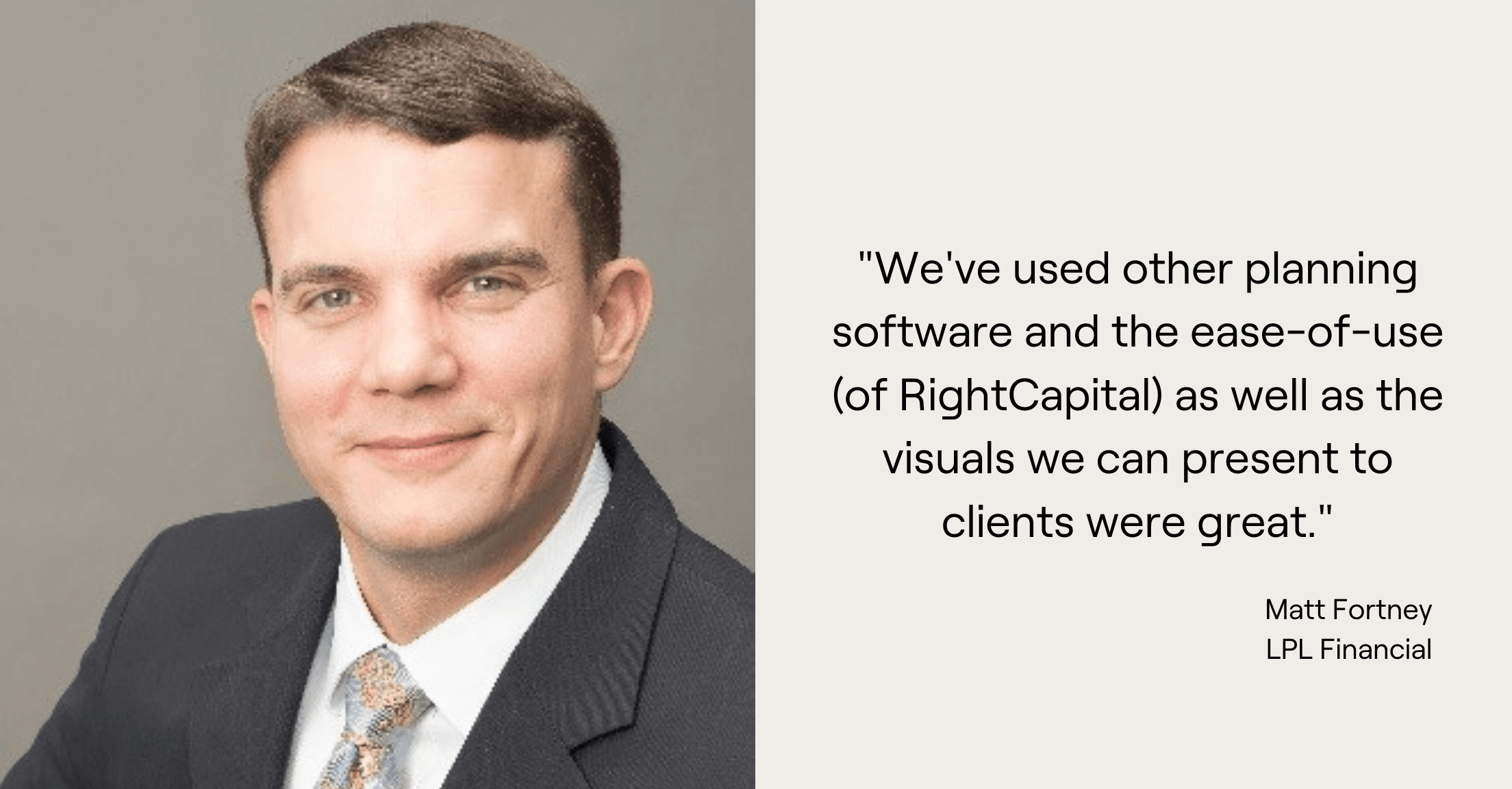 We recently sat down with a long-time friend of RightCapital, Matt Fortney with LPL Financial in Shelton, Connecticut to discuss how he has been using our financial planning software for the last four years. Watch the short video below to find out in three minutes some realized benefits of using RightCapital, or read on for the full story.
Matt and his partner's wealth management firm works with "the millionaires next door, also known as the mass affluent, to provide them with financial advice and strategies to help them make smart decisions with their money". Being in the same office complex as us, Matt had heard a lot about RightCapital. When LPL Financial approved our financial planning software for use in 2018, Matt hopped on as an early adopter. 
Challenge
A challenge the firm had been facing was in data-gathering from the various client portals and websites for accounts such as traditional banks, HSAs, investments, 401ks, insurance, and college savings. There was a real need to streamline the process and consolidate data in real time without spending valuable hours in client meetings or relying on busy families to dig around for numbers themselves. 
Solution
"We've used other planning software and the ease-of-use (of RightCapital) as well as the visuals we can present to clients were great. And having it at an extremely competitive price point was an eye-catcher…When we were able to integrate with our back office database was when it really was kicked up a notch for us," notes Matt. With the account aggregation tool, information from various sources was collected and updated easily, then presented in an easy-to-update and easy-to-understand deliverable.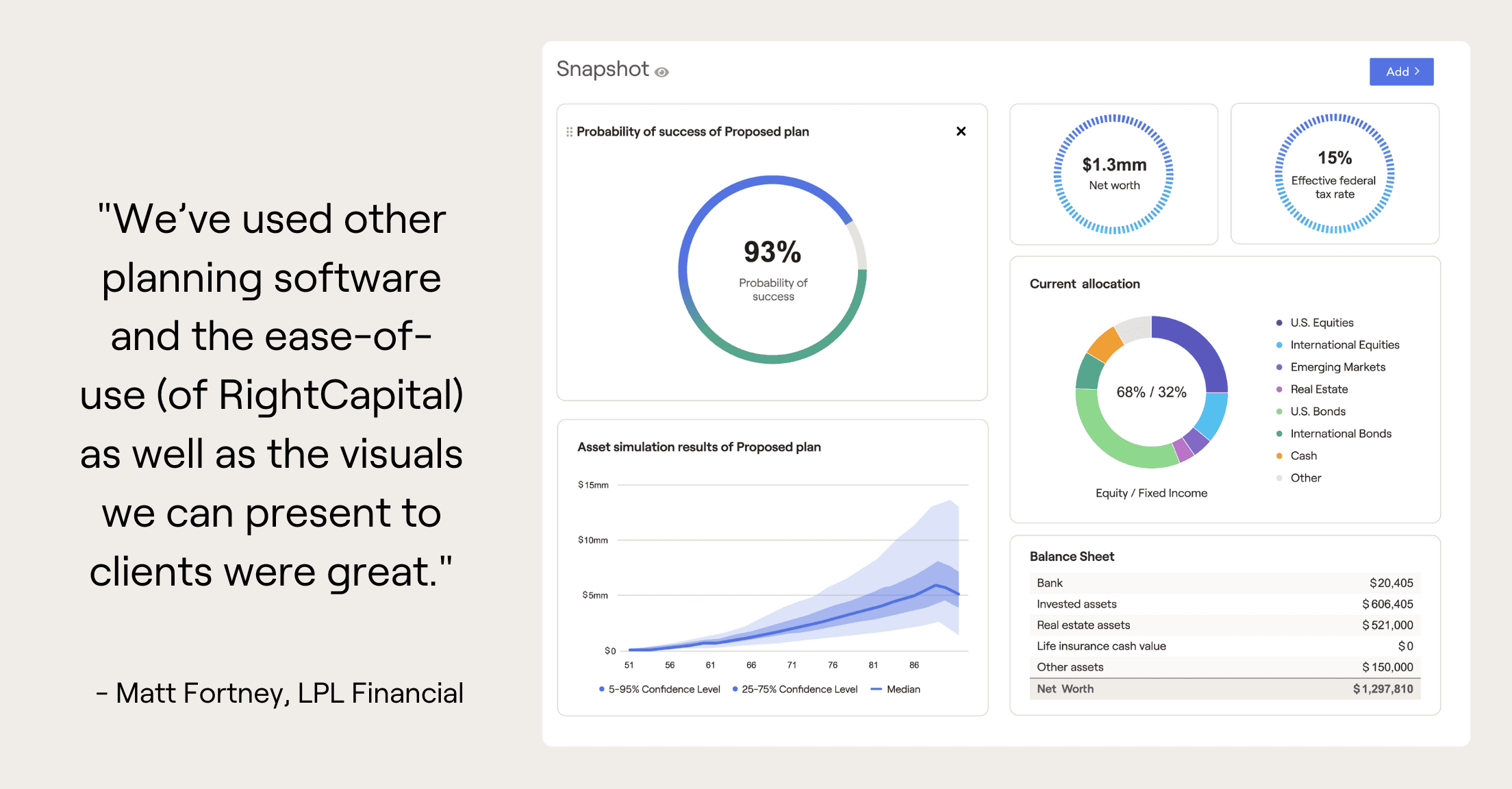 Onboarding of the software was smooth sailing. "Most of the questions we had were in relation to other software systems. I appreciate the patience the team had and also their knowledge of the other major providers in the space." Matt would call the customer support team and say, "When I used the other software, I had to do x, y, and z to get this information. How do I do it with you?" He notes there were usually fewer steps to these tasks within RightCapital and that the team knew exactly what he was trying to do and how he did it in the other program.
"The most critical feature for us has been the ability to model our client's future state under a variety of stressful market conditions. Being able to model all different scenarios both good and bad helps keep our clients' perspectives and keep them calm when things go haywire."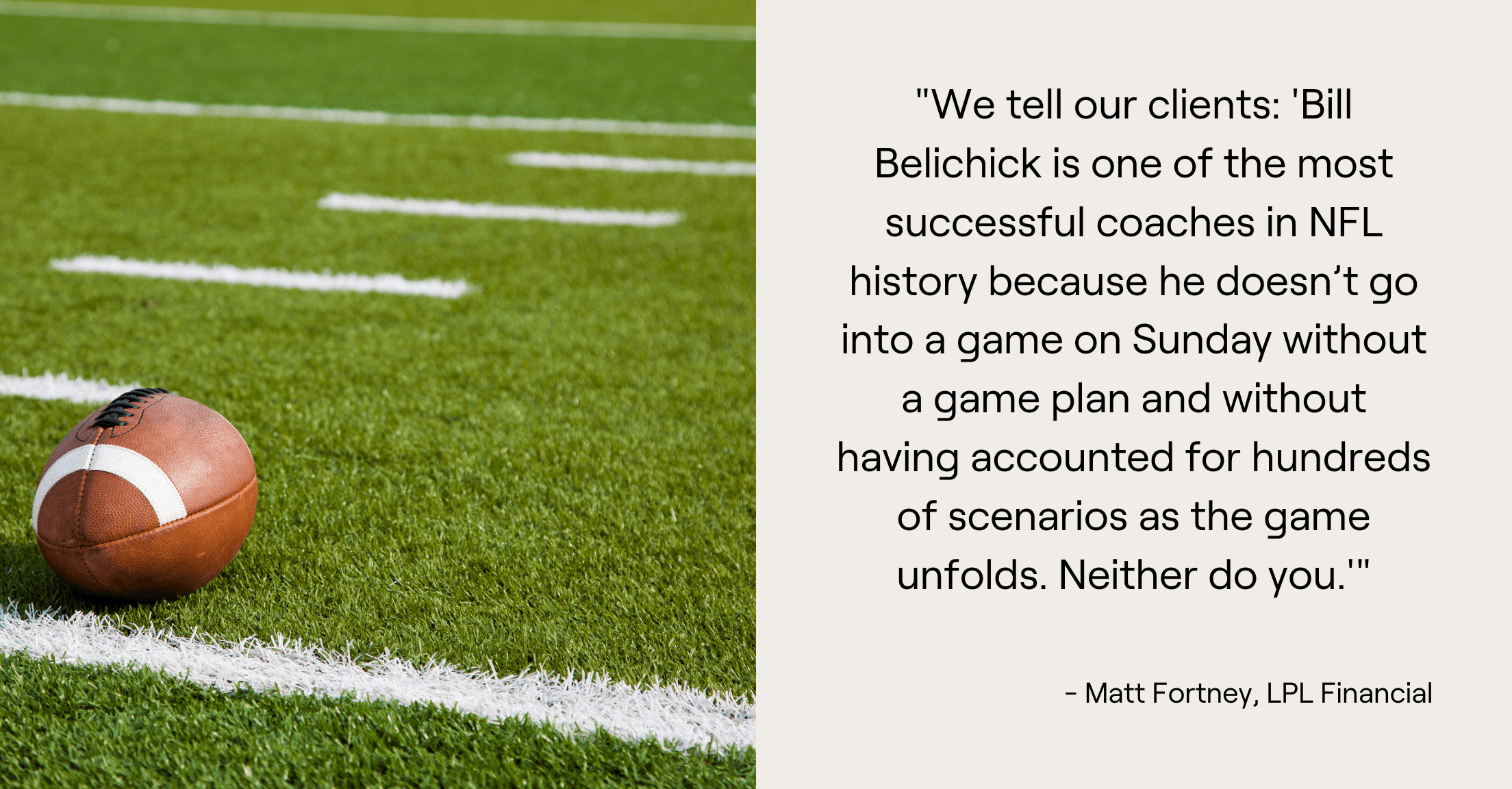 Matt and his partner tell clients, "Bill Belichick is one of the most successful coaches in NFL history because he doesn't go into a game on Sunday without a game plan and without having accounted for hundreds of scenarios as the game unfolds. Neither do you. We have a good idea of how your financial picture is going to react under a variety of circumstances. Again, we can't guarantee the outcome, but we can have a pretty high degree of confidence in the outcomes we're modeling."
Other RightCapital features the team enjoys are RightIntel—the business intelligence tool for premium and platinum subscribers which helps them stay on top of their practice and highlights opportunities—and Snapshot—the personalized plan summary which shows clients how they are doing on one clear screen. 
Matt remains impressed with the confidence meter in the Monte Carlo simulation, the aggregation and dashboards, and the projections on inflation, which can make a big difference for his clients, who may not have as large a margin for error as ultra-high net worth individuals.
Another tool Matt will be incorporating into presentations are the Dynamic Retirement Spending Strategies. "Many basic retirement spending projections simply take your expenses, compound every year for inflation out to age 90 or 95 and call it a day. But that's not how retirement goes. Expenses change during your 30 years of working, why wouldn't they change over the 30 years of retirement? Our clients tend to spend a little more when they're newly retired, but as they get older, they don't tend to travel as much or purchase as much. The tool allows us to present a more realistic picture of cash flow as they age through their retirement."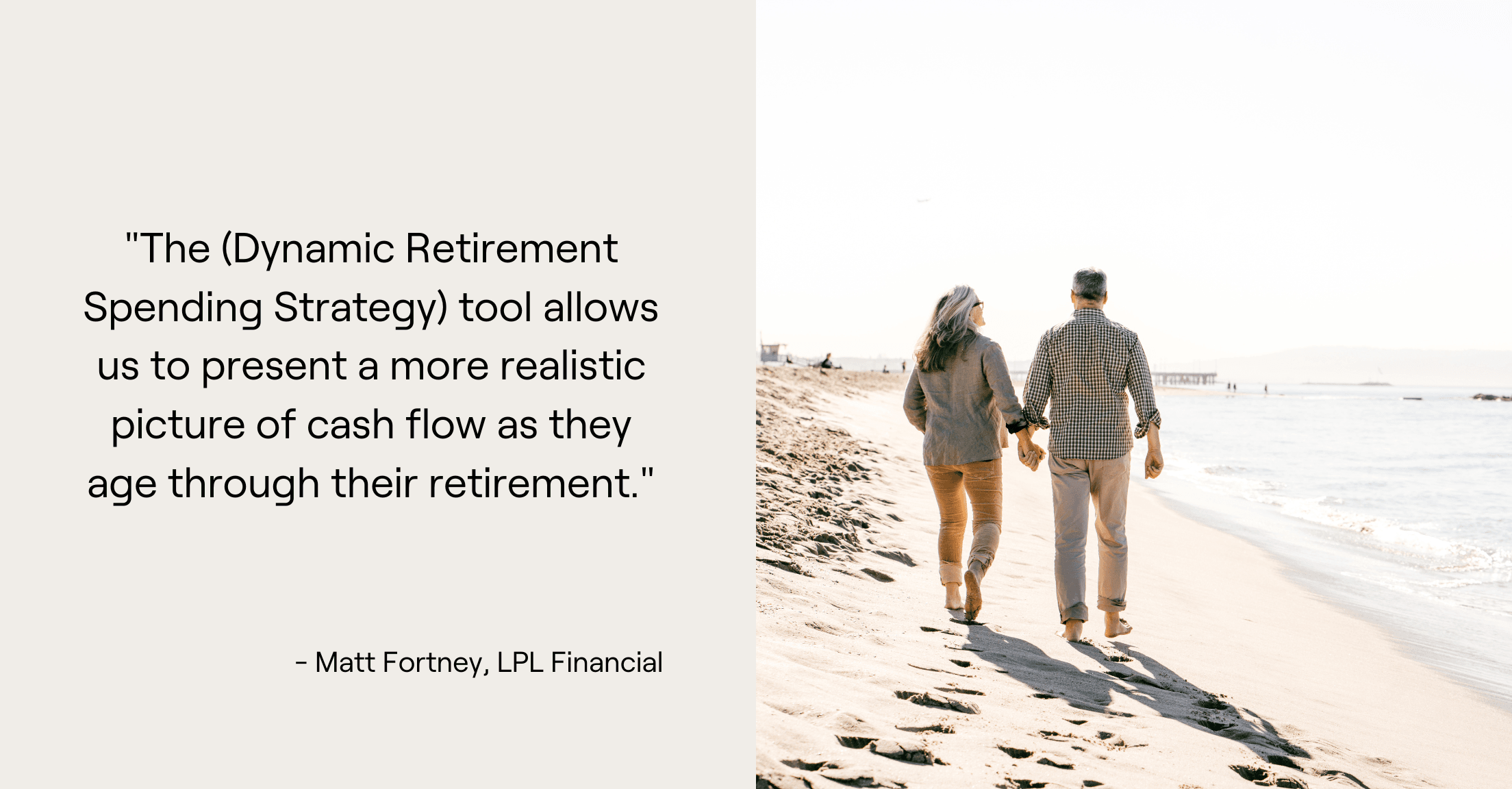 Results
Matt has observed a few interesting trends with clients whose plans are created through RightCapital. "We have been able to maintain a 100% retention rate with all the clients who have worked on a plan with us through RightCapital over the last four+ years. Additionally, approximately 90% of the referrals we've received over the last two years have come from clients who have used the portal or who have retained us for planning services using the software."
The firm has also seen a three to four times increase in services for clients who have worked with them on a plan. "Whereas a strict investment client may roll over an old 401k and that's it, once we've put together a plan and identified strengths and weaknesses in a client's financial picture, we're able to engage additional services for college planning, life insurance, excess cash, and long-term care planning."
---
For more advisor success stories, visit this page.