The decision on which financial planning software to use with your practice can be a tough one. Two of the leaders in the industry are RightCapital and MoneyGuidePro. Let's take a look at the differences between them. (Evaluating eMoney? Read our RightCapital vs. eMoney post.)
RightCapital vs. MoneyGuidePro cost
The cost of RightCapital's three tiers are laid out on our pricing page. MoneyGuide publishes their pricing on their website as well. It's worth noting that MoneyGuide is more of an "a la carte'' solution, where you pay extra for certain features, so it's difficult to do an apples-to-apples pricing comparison. However, we were able to get the insider scoop on some of MoneyGuidePro's add-on fees:
RightCapital vs. MoneyGuidePro functionality
Planning approach
There are some major differences between RightCapital and MoneyGuidePro, the main one being that with MoneyGuidePro, advisors must use the goal-based planning approach. According to this article by industry expert Michael Kitces, goal-based planning "puts the cart before the horse" and may result in hard conversations with the client about needing to create more realistic goals. A user on Reddit also notes, "MGP is great for pre-retirees and retirees. Beyond that, goal-based planning isn't particularly useful for say, a 30-year-old." With RightCapital, advisors have the flexibility to use goal-based planning, cash-flow planning, plus modified cash-flow planning.
Data sources used in financial planning
RightCapital considers more data sources than MoneyGuidePro does. For example, in MoneyGuidePro, there is minimal consideration of pre-retirement income and expenses. MoneyGuidePro assumes that clients are not spending more than they make in a given year. 
In reality, people's lives are much more complex. That's why RightCapital includes budgeting, and debt and student loan management tools built within the software to envision a client's entire financial picture, and accounts for clients' spending habits such as when they are spending more than they make within a given year. These additional inputs and tools provide more control for the advisor to help clients with their specific financial situations.
Tax considerations
RightCapital notes all income sources and how each of them is taxed. To fund any deficits, RightCapital also considers drawing down and selling assets, which produce unique tax scenarios.
The biggest difference you'll see between RightCapital and MoneyGuidePro when it comes to tax-planning is that RightCapital offers an interactive Roth conversion tool that makes it easy to visualize the impact of conversions on items such as IRMMA surcharges and increases to taxable Social Security. RightCapital also includes future tax projections including sample tax forms such as the 1040. While MoneyGuidePro has Roth conversions, it lacks the interactivity and visual outputs. A G2 user notes a dislike of MoneyGuidePro is the "Lack of ability to explore tax impact of certain strategies".
Data visualization tools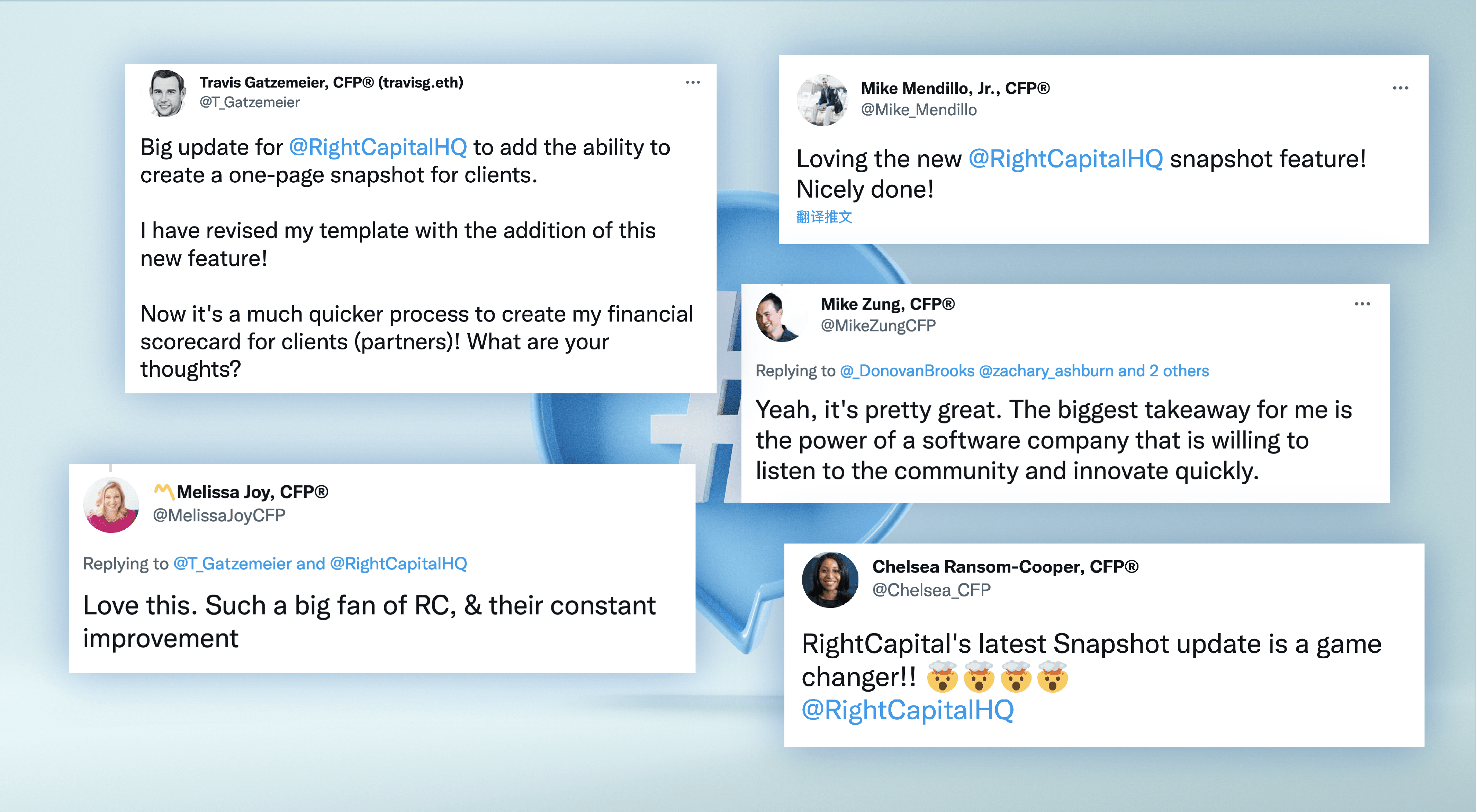 "I'm excited to review this 60-page financial planning document," said no one, ever. 
RightCapital is unique in the financial planning software industry for including advanced data visualization tools to help advisors communicate with clients using simple visuals instead of 60-page reports. RightCapital has received a lot of press and advisor approval about our one-page plan, Snapshot, as seen above. MoneyGuidePro also offers a "digital page summary" called "My Snapshot", as noted in this WealthManagement.com article. 
According to the advisor replies to this tweet from Michael Kitces, it seems RightCapital is most preferred, with quotes such as "Design wise RC crushes", "I can't tell you how much RightCapital's illustration of future wealth distribution warms my heart", and "MGP and eMoney reports look like they should come with a fax cover sheet".
Another exciting visualization feature from RightCapital is Blueprint™, an engaging, intuitive, and interactive graphical layout of each clients' net worth, goals, income, savings, and expenses, also earning rave reviews on Twitter.
Additional differences 
RightCapital also has the following features that are not available within MoneyGuidePro:
Debt & student loan management

Budgeting

Medicare planning & premium calculation

Advanced Social Security optimization such as government pension offset, windfall elimination provision, etc.

Annuity analysis

Insurance needs analysis

Ultra-high net worth estate planning

Document vault

Back office access

Consolidated client activity tracking
RightCapital vs. MoneyGuidePro onboarding experience
RightCapital advisors are usually comfortable working within our platform in less than a month. The onboarding specialists will make plenty of time for follow-up calls if you would like some extra support as you get started. Support and training (including our webinars) are always free and our help center is intuitive and well-organized.
Some MoneyGuidePro reviewers on G2 comment on the difficulty of getting started. One user notes, "It's a little tricky to learn at first - there are so, so many layers". Another says, "Sometimes it is a bit hard to navigate because it's not intuitive if you don't want to go step by step."
RightCapital vs MoneyGuidePro ownership structure 
MoneyGuidePro has been owned by Envestnet since 2019. RightCapital is owned by the company's original founders and remains independent.
RightCapital vs. MoneyGuidePro advisor satisfaction ratings  
According to the latest Kitces report on how financial advisors use technology, RightCapital's overall user satisfaction rating is 8.6/10, compared to MoneyGuidePro's at 8.2/10.
The report notes, "RightCapital led the rankings in areas such as methodology, support, ease of use, simplicity, and polished appearance…And MoneyGuidePro only led in the category of interactivity—likely a result of their popular "Play Zone"".
The Kitces Report designated RightCapital as the only financial planning software to watch and be "optimistic" about. The report lists MoneyGuidePro in the "pessimistic" category.
RightCapital vs. MoneyGuidePro user experience
RightCapital leads the market in terms of satisfaction rating for ease of use and polished appearance, according to Kitces. Advisors have been vocal on Twitter about how much they love our intuitive visuals and design (see some examples above). Check out this video case study to learn about one advisor being particularly impressed with our aesthetically pleasing interface.
According to this review on G2, MoneyGuidePro's "reporting is clunky and a lot of charts and graphs…don't make sense to the client". Another laments, "I wish it were a bit easier to plan on the fly with clients. I find navigating and updating results a bit tedious when clients are at the table."
RightCapital vs. MoneyGuidePro client support
Here is what MoneyGuidePro reported about their client support team on their website:
85% live call rate

4.8/5 average customer satisfaction score
At the time of this post, according to the user surveys collected on G2, the overall quality of support is rated as 8/10 for MoneyGuidePro vs. 9.4/10 for RightCapital.
Some stats we share about the RightCapital support team:
98% satisfaction rate

Median inbound answer time under 90 seconds
On RightCapital's G2 page, one user mentioned, "The customer service is the best, quick responses, and if they don't have a feature you ask for, they forward all requests to their developers." One user noted they liked best about RightCapital, "The immediate help we can get from the support team when we are stuck on how to model something. It's especially helpful because we like to create and update financial plans interactively with our clients and the quick solutions keep everyone engaged."
---
Choosing a financial planning software for your practice is a big decision. We encourage you to sign up for a personalized 1:1 20-minute demo with a member of our sales team and test drive RightCapital during a 14-day free trial.